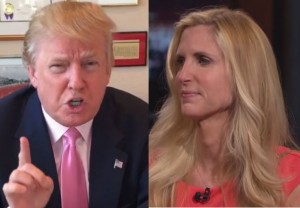 Ann Coulter, who has emerged as one of Donald Trump's most vocal supporters, once dismissed him as an unserious "clown."
"I think Trump is a clown," Coulter said in a speech at George Washington University back in 2011. "I expect the enthusiasm for him is based on two things: that the rest of at least the declared candidates aren't exciting anybody, and there's name recognition. And he has come out like gangbusters against the Obama administration like an establishment politician probably wouldn't."
Coulter also reportedly criticized Trump for his donations to Democratic political campaigns and his birtherism. "It's all just a big act for the moment," she said.
Since then, Coulter's tone has changed dramatically. "I really think he is magnificent," she said in a Monday interview with The Mike Church Show. "I'm almost stunned at how good he's being, especially considering the world he lives in."
She also called out former Republican presidential candidate Mitt Romney in particular for attacking Trump. "Trump speaks in a blunt, harsh manner that Romney doesn't have to speak in. So what? You have to leap out and condemn him? What about condemning Jeb for calling illegal immigration an 'act of love?'"
"[H]e really is just standing up for the American working class like I've never seen," she continued. "The American working class really likes him, and always has, and I think his next move should be that he should point out that he's the only one who cares about black jobs."
Much of Coulter's new-found love for Trump no doubt stems from the pair both being the source of recent controversy over their comments on illegal immigration. While Trump claimed that "most" illegal Mexican immigrants were rapists and criminals, while Coulter is on a media tour for her anti-immigration book Adios America!.
[Image via screengrab]
——
>>Follow Alex Griswold (@HashtagGriswold) on Twitter
Have a tip we should know? tips@mediaite.com