Ann Romney Proposes Innovative New Campaign Strategy: 'Maybe I Should Do All The Talking'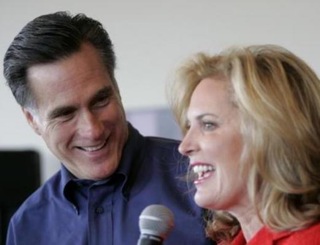 Mitt Romney's campaign, still at the front of the Republican horserace but nowhere near where many expected him to be at this point, received a boost this weekend from the Michigan Tea Party, which endorsed him. During a campaign stop today in Troy, Michigan, however, it was clear that even this boost wasn't enough for Ann Romney to stop herself from complaining that, sometimes, having to be at all these events can get really tedious. It's gotten so bad, that Mrs. Romney proposed that maybe, for a change, "I should just do all the talking."
RELATED: Donny Deutsch Pokes Fun At Romney For Saying Michigan Trees Are 'The Perfect Height'
Romney joked to a crowd in Troy about the length of the Republican campaign:
"Maybe I should just do all the talking and let him just stand here and watch me," she said as joined Mitt on stage at a tea party forum here Saturday. "I've also decided: No more debates. If we're going to do another debate, he's going to sit in the audience and watch me. And that'll be it."
It is unclear how "nor more debates" hasn't become the core platform of any of the campaigns, because at this point in the campaign, promising "no more debates" sounds about as enticing as "free puppies for everyone!" The Washington Post, which reported her humorous comments, went on to add that Romney was well-received and stressed her and her husband's ties to the state before Mitt Romney took the podium.
[Photo via]
Have a tip we should know? tips@mediaite.com