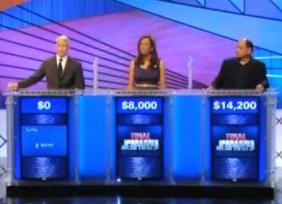 CNN anchor Anderson Cooper was on Celebrity Jeopardy last night, and in keeping with the success level of cable news hosts recently on the program, he finished with zero dollars.
What happened? Here's a look at how it all went wrong – and how the guy who smokes weed with Tommy Chong became the champ.
Gawker TV has the breakdown, which shows it started off very slowly for all three contestants on the show last night. Cheech Marin, Aisha Tyler and Cooper struggled with continents in the first category, leaving each in the red.
It got a little better after that, but with Final Jeopardy, Cooper and Tyler bet it all and lost, finishing with zero, and Marin got the victory.
MSNBC's Chris Matthews finished in second place recently, while fellow CNN anchors Wolf Blitzer and Soledad O'Brien finished in third. Cooper had Marin on his show last night to talk about the loss and general Jeopardy strategy.
Cooper also reminded viewers he "won Jeopardy the first time around I went on it," which is actually how he got on yesterday's show – it was a tournament of champions. But you could tell he was a little irked. "Not only did I lose, I lost to this guy," he said, before showing a clip from a Cheech & Chong movie.
Also, it's fun to see Cooper call his finish "tied for 2nd," which I guess is technically true.
Here's Cooper's interview with Marin last night – find out whether thumb or index finger is the way to go with the buzzer:


—–
» Follow Steve Krakauer on Twitter
Have a tip we should know? tips@mediaite.com