Anthony Bourdain's Latest Feud is With Craft Beer and the 'Nerds' Who Love It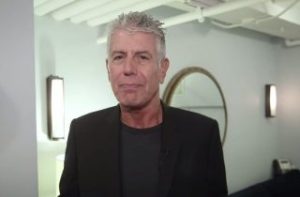 Anthony Bourdain has never been shy about his opinions on anything. He's feuded with lots of celebrity chefs, Donald Trump, and now, he's waging war on craft beer and the "nerds" who are into it.
Bourdain's rebellion against the craft beer revolution is nothing new. He mentioned earlier this year that he gets hate mail from beer nerds often because mostly he can be seen drinking "cold, available beer from a mass production." He says they get "cranky" because they assume he's "plugging" the beverage.
In a recent conversation with Thrillist, he elaborated. He said people get angry when he hasn't "made the effort to walk down the street 10 blocks to the microbrewery where they're making some f*cking Mumford and Sons IPA… I don't like to talk about beer, honestly… I like to drink beer."
He's not exactly known for his subtlety, but he is always hilarious. He described an incident in California:
I was in San Francisco, and I was desperate for beer, and I walked into this place. I thought it was an old bar. And I sat down, and I looked up, and I noticed there was a wide selection of beers I'd never heard of. Which is fine. OK, I'm in some sort of brew pub. What's good? But I looked around: the entire place was filled with people sitting there with five small glasses in front of them, filled with different beers, taking notes. This is not a bar. This is f*cking Invasion of the Body Snatchers. This is wrong. This is not what a bar is about. A bar is to go to get a little bit buzzed, and pleasantly derange the senses, and have a good time, and interact with other people, or make bad decisions, or feel bad about your life. It's not to sit there f*cking analyzing beer. It's antithetical.
Well, that's certainly one way to rile up the beer nerds.
[image via screen grab]
[H/T First We Feast]
Follow Dana Eisenberg on Twitter.
Have a tip we should know? tips@mediaite.com