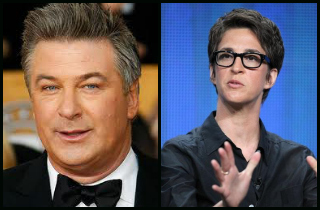 The reaction to Alec Baldwin's move to MSNBC primetime has generated quite a stir. Conservative cable news watchers have mocked the decision (for some fine entertainment, see the comments section from the original exclusive below the story) while others are mildly curious how the former 30 Rock and movie star will perform in the choppy waters of cable news.
Know this: Baldwin is the biggest name to hit MSNBC since Keith Olbermann. His speech in Glengarry Glen Ross in the world of sales is the most-quoted movie scene of all-time in that world. And unlike many over 50 in the movie biz, Baldwin can still deliver the goods if his performance in Woody Allen's Blue Jasmine and his turn with Meryl Streep in the underrated It's Complicated are any indication.
Also know this: He'll be occupying (at first) a day and timeslot currently owned by repeats of Lockup, a prison doc series that usually puts the rest of MSNBC's lineup (outside of Rachel Maddow's show) to shame from a ratings perspective. Now…whether he can perform without a script in conducting interviews, or play cruise director during panel discussions, or potentially handling breaking news is a whole other ball of wax altogether. SNL this is not…
Speaking of Maddow, what do you suppose she's thinking about the Baldwin signing? Just thinking aloud, but one has to think she can't be thrilled with the news…
Remember when Rachel used to gleefully accept former BFF Keith Olbermann's sign-off to her at the end of his 8:00 PM show? Well, let's just say there's a good chance that the same clean baton toss won't be provided (at least genuinely) from her to Alec once his show starts in the fall.
Maddow's potential issue, of course, stems from Baldwin's perceived gay slur during a Twitter spat with a reporter in June. During that unfortunate episode, Baldwin called said reporter a "toxic little queen" for comments made about his pregnant wife. And as we know, Maddow sees herself as a media leader regarding gay rights, which has a ton of momentum lately. Baldwin has since apologized, but that apparently isn't enough for Maddow.
So is Baldwin a homophobe?
Judging by his politics, by everything I've ever heard during his candid interviews with the great Howard Stern—and nobody, nobody in the business can get celebrities to completely open up on everything and anything quite like the King of All Media—the answer is absolutely not. "Queen" may not have been the right word in that situation, but when taking Baldwin's political views (liberal to a fault) and overall positive stance on gay rights into consideration (he's long supported Elizabeth Taylor's AIDS Foundation, for example), the guy simply isn't anti-gay. Not even close. And that may explain why Capital One hasn't even considered dropping him as a pitchman. They know who they're dealing with…
Maddow, of course, isn't one to upset the apple cart publicly at MSNBC. When Olbermann left, she never broached the topic unless directly asked in interviews. The two aren't on speaking terms now, and haven't been for over two years…which is odd considering Olbermann—and Olbermann alone—is the reason Maddow was awarded a primetime show in the first place. It would be like Chris Hayes dissing Rachel one day. Because, after all, she couldn't have advocated (at MSNBC) the disaster that has been his move to MSNBC primetime any harder.
And so it goes in cable news.
Perhaps Maddow will embrace Baldwin as a show of solidary to the public.
But until Baldwin bends over backward to show he's 1000 percent in the corner of the gay community, his lead-in at 9:00 PM probably won't be satisfied.
— —
Follow Joe Concha on Twitter @ConchSports
Have a tip we should know? tips@mediaite.com