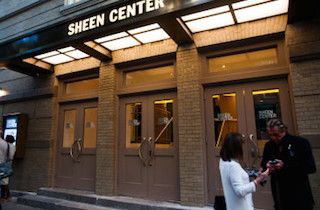 An anti-censorship benefit event at New York City's Sheen Center was canceled recently over concerns about some of the scheduled speeches and Neil LaBute's play Muhammad Gets a Boner.
"The management of The Sheen Center actually suggested that we alter the title of Neil LaBute's play, and alter the content of some of our panelist's speeches," said the artistic curator of "Playwrights for a Cause." "Which we find completely out of line with the anti-censorship mission of the benefit."
Originally scheduled for June 14, the panel of speakers was scheduled to include Cecilia Copeland, speaking on the censorship of women in the arts; Kaela Mei-Shing Garvin, speaking on the censorship of environmentalists and climate scientists; Michael Hagins, speaking on the censorship & underrepresentation of minorities in the arts; and Mark Jason Williams, speaking on the censorship of LGBT artists.
The event was a benefit for the National Coalition Against Censorship, which is not amused.
The theater defended the cancelation. "When an artistic project maligns any faith group, that project clearly falls outside of our mission to highlight the good, the true, and the beautiful as they have been expressed throughout the ages," said the theater's executive director, per the New York Times. The theater is funded with money from the archdiocese of New York.
LaBute released a statement last week:
"By design, this event was meant to shine another light on censorship and it was unexpected to have the plug pulled, quite literally, by an organization that touts the phrase 'for thought and culture' on their very website. Both in life and in the arts, this is not a time to hide or be afraid; recent events have begged for artists and citizens to stand and be counted and i sincerely hope that we will find a space that helps us do just that."
The cancelation comes amidst growing debate over the provocation of Islam by western organizations and artists. PEN's honoring of Charlie Hebdo cartoonists recently induced a public withdrawal by multiple writers, while a Draw Muhammad contest in Texas was shattered by violence.
[h/t Playbill]
[Image via screengrab]
——
>> Follow Evan McMurry (@evanmcmurry) on Twitter
Have a tip we should know? tips@mediaite.com