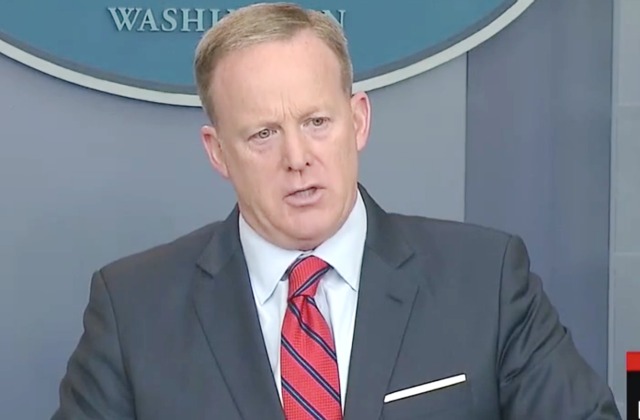 White House Press Secretary Sean Spicer has repeatedly apologized for his Hitler gaffe this week, but the head of the Anti-Defamation League tweeted today that he has sent a letter to Spicer offering him a "Holocaust education session."
During Tuesday's press briefing, as he was talking about Syria, Spicer said that Hitler "didn't even sink to using chemical weapons." His multiple follow-ups explaining the remark didn't help, and he ended up apologizing.
ADL CEO Jonathan Greenblatt today put out a letter he sent to the press secretary, writing, "When the first days of Passover ended and we turned on our phones and televisions yesterday evening, we learned about your comment that Hitler did not gas his own people. Your comparisons between Assad and Hitler were not only historically inaccurate but they also were inappropriate and offensive."
He brought up the controversy over the White House's Holocaust Remembrance Day statement not specifically mentioning the Jewish people, as well as Spicer's defensiveness when asked about it, to tell Spicer that these incidents "exposed a serious gap in your knowledge of the Holocaust, its impact, and the lessons we can learn from it."
Greenblatt actually offers to educate Spicer (and others) about that history:
For decades, ADL has been at the forefront of Holocaust education, providing trainings about the Nazi atrocities to a wide range of groups. We have conducted trainings for more than 130,000 law enforcement professionals and more than 35,447 educators, reaching more than 1,000,000 students. Our programs provide historical context for how the Holocaust was able to occur; teach the Holocaust as a human story; and create opportunities for critical thinking. Each of these educational programs focuses on the consequences of unchecked bigotry and hate.

ADL would be happy to conduct one of these trainings at your convenience for you, your staff, and anyone at the White House who may need to learn more about the Holocaust. We know you are very busy, but we believe a few hours learning this history will help you understand where you went wrong and prevent you from making these mistakes in the future.
[image via screengrab]
— —
Follow Josh Feldman on Twitter: @feldmaniac
Have a tip we should know? tips@mediaite.com
Josh Feldman - Senior Editor