CNN's Jeffrey Lord: I Made Comparison Between Trump and MLK 'Deliberately and With Reason'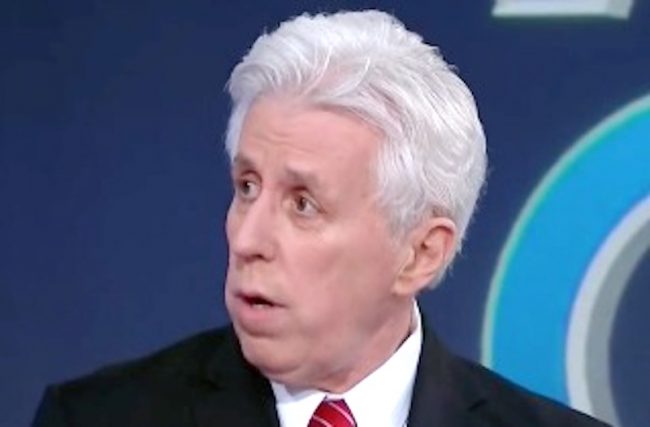 Jeff Lord has a piece up on CNN.com tonight explaining the moment this morning when he drew a comparison between President Trump and Dr. Martin Luther King, Jr.
In case you haven't seen it yet (watch here to catch up), Lord said today, "Think of President Trump as the Martin Luther King of health care."
Fellow panelist Symone Sanders scolded him for the comparison and said, "Let's not equate Dr. Martin Luther King Jr., a humanitarian, a Nobel Peace Prize-winner, to the vagina-grabbing president Donald Trump."
Lord writes tonight, "Both host Alisyn Camerota and fellow guest Symone Sanders were astonished. So, it appears, are others. They shouldn't be. In fact, I made a comparison between Trump and King deliberately and with reason. Both men used or are threatening to use crisis to pass legislation."
Lord, who calls King one of his childhood heroes, argues that he had the civil rights icon's famous "Letter from Birmingham Jail" in mind. He connected that to the Wall Street Journal report that Trump is "threatening to withhold payments to insurers to force Democrats to the negotiating table."
This was the part of King's letter Lord linked that to:
You may well ask: "Why direct action? Why sit ins, marches and so forth? Isn't negotiation a better path?" You are quite right in calling for negotiation. Indeed, this is the very purpose of direct action. Nonviolent direct action seeks to create such a crisis and foster such a tension that a community which has constantly refused to negotiate is forced to confront the issue. It seeks so to dramatize the issue that it can no longer be ignored. My citing the creation of tension as part of the work of the nonviolent resister may sound rather shocking. But I must confess that I am not afraid of the word "tension." I have earnestly opposed violent tension, but there is a type of constructive, nonviolent tension which is necessary for growth. Just as Socrates felt that it was necessary to create a tension in the mind so that individuals could rise from the bondage of myths and half truths to the unfettered realm of creative analysis and objective appraisal, so must we see the need for nonviolent gadflies to create the kind of tension in society that will help men rise from the dark depths of prejudice and racism to the majestic heights of understanding and brotherhood. The purpose of our direct action program is to create a situation so crisis packed that it will inevitably open the door to negotiation. I therefore concur with you in your call for negotiation. Too long has our beloved Southland been bogged down in a tragic effort to live in monologue rather than dialogue.
Lord argues that Trump "is using Dr. King's strategy — in Dr. King's own words –'to create a situation so crisis-packed that it will inevitably open the door to negotiation'":
In Dr. King's day, the objective was negotiation that would lead to the passage of civil rights legislation. Today, President Trump is using the threat of crisis to negotiate his stated objective of legislation to repeal and replace Obamacare. Different goals, yes. But the strategy of creating a crisis to obtain a specific legislative outcome is exactly the same.

And there is nothing in the least wrong in saying so.
You can read the whole thing here, via CNN.
[image via screengrab]
— —
Follow Josh Feldman on Twitter: @feldmaniac
Have a tip we should know? tips@mediaite.com
Josh Feldman - Senior Editor