Anti-Gay Pastor Isn't Actually Going to Set Himself On Fire After Same-Sex Marriage Ruling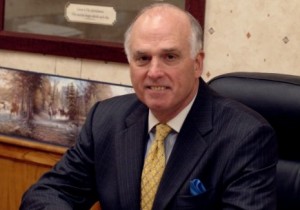 Despite the Obergefell v. Hodges ruling handed down from the Supreme Court of the United States on Friday, the clamor of those who oppose same-sex marriage won't be ending anytime soon. All you have to do is survey the loudest right-wing responses to figure that out.
However, a few of the conservative Christian horn-blowers, like famously anti-gay Texas pastor Rick Scarborough, are backtracking on previous statements made regarding the impending SCOTUS ruling. Scarborough's most recent clarification is noteworthy because he's no longer going to set himself on fire in protest. Let me explain.
Earlier in June, a conference call Scarborough participated in leaked to the media. Aside from the usual rigmarole of protesting marriage equality, the pastor made one rather startling statement:
We are not going to bow, we are not going to bend, and if necessary we will burn.
It was, of course, taken way out of context, as many believed Scarborough was indirectly threatening to set himself on fire if the Supreme Court ruled in favor of same-sex marriage.
According to the Advocate, Scarborough claims that's not at all what he was trying to say:
I made that comment to paraphrase a spiritual song, "Shadrach, Meshach and Abednego," in which the three were given a choice — to bow to the image of Nebucahdnezzar or burn in a furnace. "We will burn" means that we will accept any sanction from the government for resisting [last Friday's] Supreme Court decision. We do not support any violence or physical harm.
So he was figuratively going to set himself on fire if the SCOTUS ruled in favor of Obergefell and the other plaintiffs in the case. This begs the question — can you figuratively smell the fire?
Check out an audio clip of Scarborough's fiery declaration:
[h/t Advocate]
[Image via Facebook]
— —
>> Follow Andrew Husband (@AndrewHusband) on Twitter
Have a tip we should know? tips@mediaite.com