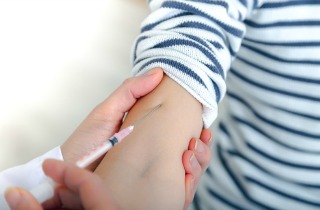 It took a severe case of measles in the city of Ottawa — and then her entire family contracting whooping cough — for Tara Hills to realize that she had to vaccinate her seven children.
In an interview with The Washington Post, Hills said that she and her husband had partially vaccinated her first three children, but decided against vaccinating their four youngest due to fears over autism and other potential risks. "In the media, people who don't vaccinate are typically the villains, and that made us really uncomfortable because we knew we were those people," she said. "I set out to prove that we were right, and in the process found out how wrong we were."
Despite exhortations from friends and relatives for her to vaccinate her children, Hills refused to concede, as wrote in a confessional on TheScientificParent.com that eventually went viral (no pun intended). "We stopped because we were scared and didn't know who to trust. Was the medical community just paid off puppets of a Big Pharma-Government-Media conspiracy? Were these vaccines even necessary in this day and age? Were we unwittingly doing greater harm than help to our beloved children? So much smoke must mean a fire so we defaulted to the 'do nothing and hope nothing bad happens' position."
When the Disneyland measles outbreak occurred, eventually reaching Canada and narrowly missing her own family, Hills and her family were forced to confront their own biases against the overwhelming evidence in favor of vaccines, and, after reading peer-reviewed journals and research, decided to put her children on a vaccine schedule. Before she could do that, however, her children — all seven of them — developed whooping cough, a disease easily prevented with a vaccine but deadly to infants and young children. Hills and her family were forced into quarantine for more than a week, giving her time to consider whether she wanted to go public. "I am not looking forward to any gloating or shame as this 'defection' from the antivaxx camp goes public, but, this isn't a popularity contest," she wrote:
Right now my family is living the consequences of misinformation and fear. I understand that families in our community may be mad at us for putting their kids at risk. I want them to know that we tried our best to protect our kids when we were afraid of vaccination and we are doing our best now, for everyone's sake, by getting them up to date. We can't take it back … but we can learn from this and help others the same way we have been helped.
Read more at The Washington Post.
[Image via Shutterstock]
—
>> Follow Tina Nguyen (@Tina_Nguyen) on Twitter
Have a tip we should know? tips@mediaite.com