AP Reporter Says Russian Officials Have Offered to Be Present At Some States' Polling Places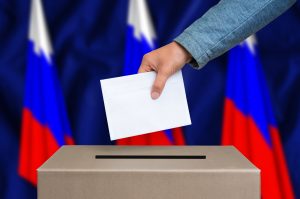 In spite of Donald Trump's claims he doesn't know Vladimir Putin and Russia's claims that they've had nothing to do with recent hacks of emails to and from leading Democrats, many pundits, politicians, journalists, and everyday observers have become more and more convinced of Russia's involvement in the current American presidential election. (This could be because Trump himself once publicly invited Russian hackers to try to locate Hillary Clinton's deleted emails.)
Now, Eric Tucker of the AP has tweeted this:
(AP) — Oklahoma and 2 other states say they've denied a request by Russian officials to be present at polling stations during the election.

— Eric Tucker (@etuckerAP) October 21, 2016
Trump has called for his supporters to vigilantly monitor polling places on November 8 to be sure that no voter fraud takes place. What he has called for is largely considered to be voter intimidation, which is illegal.
If what Tucker is reporting is true, then Russian officials are trying to heed the call and provide a presence at the polling places. For the most part, this has Twitter users shaken up.
If you can vote early, vote early. This election is getting scary. https://t.co/InQiCr3XKy

— Andy (@trtx84) October 21, 2016
… does this tweet say what I think it says? https://t.co/ZtrYgZ0RTG

— Conrad Close (@conradclose) October 21, 2016
Well this is terrifying https://t.co/pEGPrpmJW6

— Jarett Wieselman (@JarettSays) October 21, 2016
An AP report. Not The Onion. https://t.co/k10S744JBj

— Cliff Judy (@CliffJudy) October 21, 2016
Further details on the offers from these officials and rejections from states are forthcoming.
UPDATE — 12:30 p.m. EST:
Citing the AP, CBS News has revealed that the other two states who were approached with the offer and subsequently denied it were Texas and Louisiana. From that report:
An official with Russia's consulate general in Houston sent a letter to Oklahoma Secretary of State Chris Benge last month seeking to have one of its officers present to study the "US experience in organization of voting process."

But Benge denied the request, noting Oklahoma law prohibits anyone except election officials and voters from being present while voting is taking place.
Here is the report from our sister site, LawNewz, too.
[image via andriano.cz on Shutterstock]
Have a tip we should know? tips@mediaite.com