AP Reporter to State Dept: Why 'Over the Top' Condolences for Iran, State Terror Sponsor?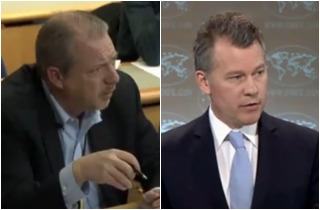 Associated Press reporter Matt Lee questioned the State Department on Friday about why the U.S. seems to be giving "over the top" condolences to Iran for the death of its president's mother, and asked specifically whether it has anything to do with gaining leverage with ongoing nuclear talks.
"I'm just wondering, aren't you guys laying it on a bit thick here?" Lee asked. "Is there something that you're expecting in terms of Iranian concessions in the negotiations with this display?"
State Department spokesman Jeff Rathke said that isn't correct, and that the condolences were justified because a member of the Iranian negotiating team is the brother of President Hassan Rouhani. Lee wasn't budging, and said it still seems a bit "over the top."
"I mean, this is the leader of a country — and again, clearly the loss of one's parent is tragic — but this is the leader of a country that you accuse of being the world's leading state sponsor of terrorism, you accuse of trying to develop a nuclear weapons with which its leaders have said it will use against one of your top allies. And, I mean, it's understandable that one would express condolences, but you're really — it looks like you're going out of the way to, you know, to make a point here with this. I mean, are you sending flowers as well? What is it that you hope to achieve, other than expressing condolences, if anything?"
Rathke maintained his position that people shouldn't be reading into it any more than expressing condolences.
In recent days, Lee has been repeatedly pressing the State Department on former Secretary of State's Hillary Clinton's so-called "separation form," which spokeswoman Jen Psaki said this week the State Department has no record of.
Watch the video below:
[Image via State.gov / screengrab]
— —
>>Follow Andrew Desiderio (@forza_desiderio) on Twitter
Have a tip we should know? tips@mediaite.com