AP Reporters In Trouble For Tweeting News Of Their Arrest Before The AP Could Report It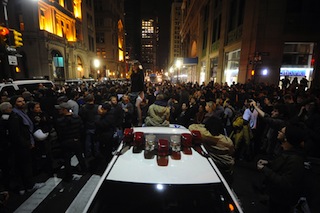 Here's an odd bit of journalistic protocol for you. Yesterday we brought you the story of the allegedly shoddy and even violent treatment that a number of journalists received at the hands of the NYPD when they attempted to cover the eviction of the Occupy Wall Street protesters. In that story, we mentioned how many of the journalists resorted to using Twitter to disseminate information about the apparent "media blackout." This was especially true when a number of journalists were actually arrested for attempting to do their jobs. However, an Associated Press reporter and photographer have gotten in a little trouble with their employer for Tweeting about their arrest. Not because they were arrested but because the AP could have totally broken that.
The story comes from the Daily Intel which was forwarded a company-wide email sent to AP staff. The email reminds the staff that "we've had a breakdown in staff sticking to policies around social media and everyone needs to get with their folks now to tell them to knock it off."
The guidelines aren't entirely new or unique to the Associated Press. However, many see them as outdated. Would it not have been easier for the Associated Press to simply have retweeted the reporter's tweets? After all, they may have scooped the wire, but anyone else on the scene (and there were plenty or journalists there) could have scooped it too. Still, this kind of practice may go against the very business model of the AP.
The opinion of most journalists, though, probably fall in line with that of the New York Times' Brian Stelter, one of the reporters live tweeting the raid last night. In response to the Daily Intel's piece, Stelter wrote that, if the staff is getting in trouble for beating the wire, "shouldn't the wire speed up?!"
Really though, this is totally understandable. You have no idea how much trouble Mediaite's own Tommy Christopher got in for tweeting about his heart attack. I mean, seriously, that would have been a great column for us! How selfish.
Have a tip we should know? tips@mediaite.com