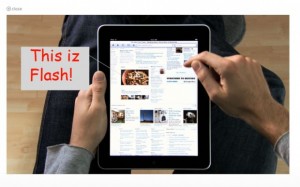 As dialogue continues to swirl about the iTampon's big iLetdown, David Carr's recent article in the New York Times touches on a point that has often gone unsaid: this is a media consumption device, not a gadget, and its larger size is precisely what makes it special.
Think about it: when you read a book or a magazine on the computer, the screen is not the primary annoyance. It's the chair, having to sit, hunch and strain, unable to curl up with your book on the couch or to read the paper without configuring your laptop next to your O.J.
"Critics who suggested that Apple unveiled little more than an iPhone that won't fit in your pocket don't seem to understand that by scaling the iPhone experience, the iPad becomes a different species," Carr writes. "Media companies now have a new platform that presents content in an intimate way."
Whether or not media companies are ready is another topic for debate. The device has no Flash, which has left Hulu and Conde Nast (which just finished up a Flash prototype of a digital magazine) in tears. Apple has "limited agreement with movie studios," magazines were practically nonexistent in the Apple demo and though five of the top six book publishers have signed on, it may be a while before they're able to take full advantage of the iPad's features, such as video within text.
Nevertheless, the iPad has already made media waves. As recently as Friday, Amazon had refused to sell books for Macmillan on Kindle with a similar pricing schedule as the iPad. By Sunday, they had surrendered.
Personally, I don't think it's going to take long for media companies to catch up to the iPad's capabilities, nor do I think Apple will waste much time installing Flash on the device. As soon as they come out with scented varieties…er, I mean colors…I'll be on board.
Have a tip we should know? tips@mediaite.com