'ARE WE STILL AIRING THAT SH*T?!' Fox News Staffers Reportedly Embarrassed by Seth Rich Coverage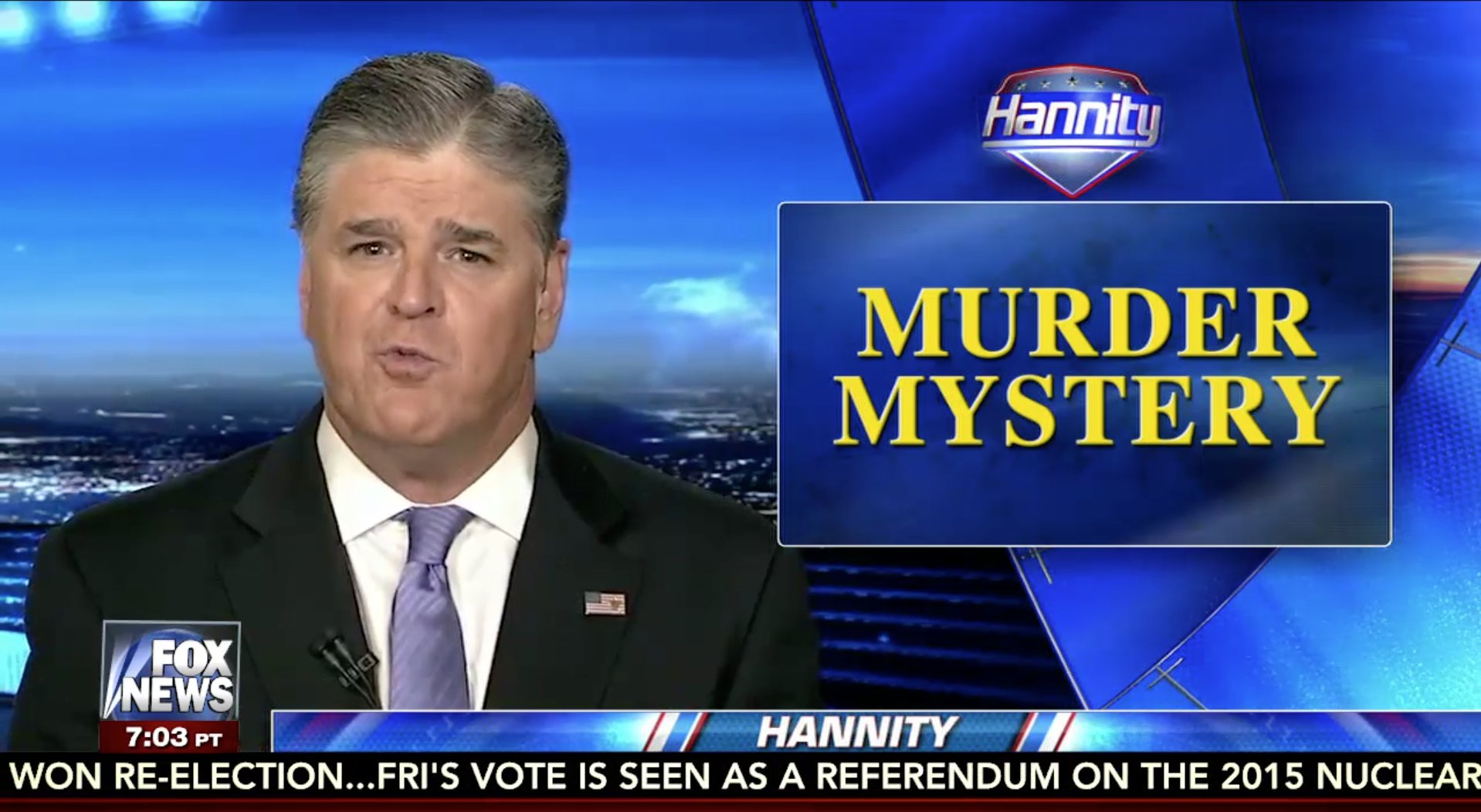 Fox News staffers are embarrassed and angered by the cable news network's continued coverage of the debunked Seth Rich conspiracy theory, according to The Daily Beast.
The conspiracy — that slain DNC staffer Seth Rich was killed because he gave emails to Wikileaks — received renewed attention last week, after Fox 5 ran a story in which Rod Wheeler, a private investigator and Fox News contributor, claimed to have evidence of communications between Rich and Julian Assange's website.
A number of right-wing websites — including FoxNews.com, Breitbart and the Drudge Report — ran with the story, which fell apart shortly after it was published, when Wheeler confessed he had no actual evidence to support his claims. Washington D.C. police believe Rich was killed in a botched robbery, and the family has repeatedly asked news outlets to stop exploiting their son's death for political ends.
But that didn't stop Fox News from continuing to cover it: Sean Hannity has given breathless coverage to the "Murder Mystery," and continues to Tweet about the story. Newt Gingrich shamelessly touted the conspiracy on Fox & Friends. Then, on Monday, Geraldo Rivera took to Twitter to announce he will be joining Hannity to discuss Rich's death on Monday night.
RELATED: What the Hell is Going on with Sean Hannity and the Nutty Seth Rich Conspiracy Theory?!
The Daily Beast reached out to Fox News staffers to see how they felt about their network's coverage:
The Daily Beast spoke to nearly a dozen reporters, pundits, and hosts inside Fox News who all conveyed the same sentiment: Hannity is "embarrassing" the network, and the promotion of the Rich conspiracy theory is senselessly cruel to a grieving family.

"ARE WE STILL AIRING THAT SHIT?!" one Fox News political reporter, who says they are furious that the conservative cable-news giant is entertaining the conspiracy theory, messaged The Daily Beast when informed of recent coverage.
Other sources at the network who spoke to The Daily Beast on condition of anonymity called the continued coverage "gross" and "heartless."
Hannity even drew the ire of his fellow opinion pundits at the network, who "expressed disgust at the conspiracy theorizing, using words like 'absurd' and 'unhinged' to describe Hannity's antics."
Julie Roginsky, a Democratic contributor on Fox, today publicly slammed people promoting this conspiracy theory, though she didn't single out Hannity.
[image via screengrab]
—
Follow Aidan McLaughlin (@aidnmclaughlin) on Twitter
Have a tip we should know? tips@mediaite.com
Aidan McLaughlin - Editor in Chief