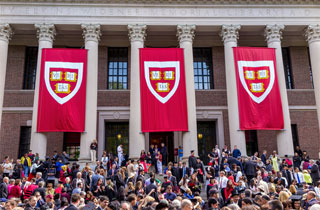 Boston news stations are reporting that an armed, unidentified man claims to have left bombs in multiple locations on the Harvard University campus.
According to WCVB, an unidentified male called Harvard police and said that he had left bombs in multiple buildings, which were immediately evacuated. The man has not been found, though a "suspicious package" was located on Prescott Street.
Cambridge police and fire officials are also investigating.
Though the academic year is over, students are still on Harvard's campus studying in the school's Summer Session, and Harvard Square is usually full of tourists at this time of the year.
Harvard tweeted out the follow:
HUPD in the process of examining bomb threat. Science Center and other buildings evacuated. Updates to come. http://t.co/8MXRRMMSMV

— Harvard University (@Harvard) July 5, 2014
During the confusion, however, a Twitter user claimed that he'd called in a fake bomb threat:

As #Cambridge and #Harvard police respond to report of a bomb, Twitter user is claiming responsibility for hoax #WCVB pic.twitter.com/J7A8GRwVEs

— Liam Martin (@LiamWCVB) July 5, 2014
@SloneUser, who created his account less than an hour before the threats were called in, seems to be taking pleasure in calling in the fake threat: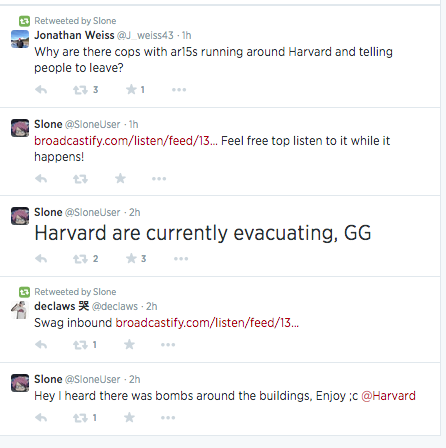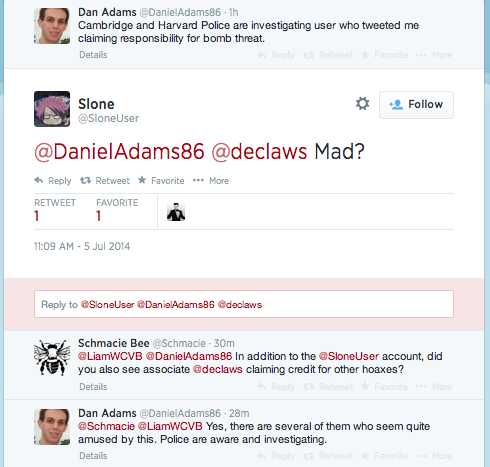 We'll have more as the story develops.
UPDATE: (1:11 PM EST): Cambridge Police and Harvard have given the all-clear:
@Harvard campus has been given the all-clear following this morning's suspicious package calls. #CambMA

— Cambridge Police (@CambridgePolice) July 5, 2014
Harvard officials have reopened buildings following a thorough search by HUPD and CPD. Campus given the all-clear. http://t.co/m8X7p9wVfx

— Harvard University (@Harvard) July 5, 2014
UPDATE: (3:12 PM EST) The FBI is now involved and will work with local police to find at least two people who claimed responsibility, per WBZ:
One of those Twitter accounts had made reference to "swatting" prior to the initial call.
The term swatting refers to a hoax call intended to draw a response from law enforcement, particularly a SWAT team.
The FBI first reported on the phenomenon of 'Swatting' in 2008. In 2013, a number of celebrities were victimized by these type of illegal pranks, prompting California to pass a law forcing violators to reimburse the state for the cost of the police response.
[Image via f11photo / Shutterstock.com]
—
>> Follow Tina Nguyen (@Tina_Nguyen) on Twitter
Have a tip we should know? [email protected]