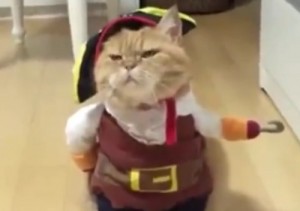 Look, we get it. Sometimes social media professionals screw up. Sometimes it's as minor as a single misspelled word in a 800-word blog post, sometimes it's as big as a tweeted link purporting to be about one thing when it's really about another. Such was the case for the Associated Press' @AP_Politics Twitter account, which tweeted out a link to the AP's story about the alleged hack of CIA Director John Brennan and Secretary of Homeland Security Jeh Johnson's personal email accounts.
The now deleted tweet originally read, "CIA director's private email hacked? Person claims to have breached account, along with Homeland Security secretary," then provided a shortened link to what was presumably the AP's story on the matter. It wasn't.
Instead, it linked to a viral video of a cat wearing a pirate costume for Halloween posted to actor Tyrese Gibson's Facebook page last Friday. Hence the classy gentleman pictured at the top of this post.
WRONG LINK BRO https://t.co/oMWCw0qfFy

— Vaughn Sterling (@vplus) October 19, 2015
Despite the mistake, other tweeters begged the AP not to delete the mistake, claiming that it was "phenomenal."
.@AP_Politics this is phenomenal. do NOT delete your tweet pls. thx.

— Colin Campbell (@BKcolin) October 19, 2015
The Associated Press wins the internet today with the link in this tweet: https://t.co/VE3vx5eIsm Please don't delete it @AP_Politics

— Erick Erickson (@EWErickson) October 19, 2015
Sadly, the AP deleted the original tweet, but that didn't stop everyone from having some fun with the wonderful SNAFU.
You really have to click through to the article to appreciate the magnitude of this tweet. https://t.co/oMWCw0HR48

— Vaughn Sterling (@vplus) October 19, 2015
calling it right now: The Associated Press Pirate Cat is the best Twitter event of today, regardless of whatever Biden does.

— Colin Campbell (@BKcolin) October 19, 2015
.@AP_Politics so tyrese's cat didn't hack the CIA?

— Travis Waldron (@Travis_Waldron) October 19, 2015
You better apologize for that tweet, @AP_Politics. My father was a cat dressed as a pirate, and my grandfather was Tyrese.

— Ben Collins (@oneunderscore__) October 19, 2015
my god, they have even hacked the ap's link and replaced it with a video of a cat in a costume

— The Big Man (@bedroompastrami) October 19, 2015
#PirateCat2016 or bust.
[Image via screengrab]
— —
>> Follow Andrew Husband (@AndrewHusband) on Twitter
Have a tip we should know? tips@mediaite.com