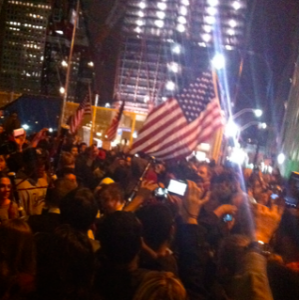 The news came to me on a darkened bus somewhere between DC and New York. I was returning from WHCD weekend – wiped clean out of the news now – when I saw Steve Case tweet about a 10:30pm address from President Obama. "Well that's unusual," I wrote, cursing the fact that I was due to hit New York at 11:15pm. I sat watching Twitter, and soon knew just how unusual it was: first as rumor, but the kind of rumor you know anyone from a news org wouldn't tweet unless they knew for a fact. Almost ten years after 9/11, Osama bin Laden had finally been killed. Wow.
Taking in the news through Twitter meant three things: Getting the updates, processing the emotions, and giggling at jokes. The juxtaposition of all three was surreal, especially thinking back on September 11th when the news came in through email and IM, phone lines were jammed, and all you wanted was a TV. Meanwhile, the bus remained dark and silent as we pulled into New York. I told a few neighbors, and then told my cabbie on the way home, and the guys in my corner store. I got home in time for Wolf Blitzer to introduce the President of the United States.
Twitter remained a constant, but there was a new theme to join jokes about long-form death certificates and crowing about the power of social media: Tweets from Ground Zero. Joe Weisenthal from Business Insider tweeted that people were singing the national anthem. The Economist's Matthew Bishop reported vuvuzelas, horns honking and chants of "Yes We Can." GroupMe's Steve Cheney noted a sudden rush of Ground Zero check-ins on Foursquare. On cue, the WSJ's Maya Baratz Instagrammed. It was time to get down there.

The first thing you heard was the noise. Turns out a crowd of thousands strong – and growing – can make some noise. There was cheering, throaty renditions of "God Bless America" "America The Beautiful" and of course "The Star-Spangled Banner." There was "USA! USA! USA!" – of course – and a few sports-inspired rounds of "Na na na na, na na na na, hey hey hey, good bye" – a time-tested tradition. There were a whole bunch of flags – and, shortly, some enterprising vendors doing a brisk business selling more – and more than a few draped around shoulders, Superman-style (or, Captain America style – and yes, eventually, there was some actual Captain America gear, too). One kid said that he was wearing the flag for his dad, who had survived Tower Two.
There were newspeople of course – NBC, CBS, roving camerapeople galore, photogs everywhere – and of course the amateurs holding up iPhones and Blackberries and cellphones to the sky, capturing the moment in Twitpics or just for their own personal i-Library. The sea of glowing phones raised high in the night was actually quite beautiful, held against the similarly-glowing windows of 1 World Trade Center – and against the empty purple sky next to it.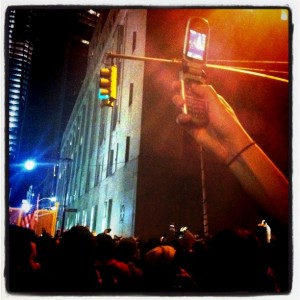 The first person I ran into was also the first person I'd seen since the news, barring two cabbies and the folks behind the counter at my corner store. It was Brian Tobal, co-founder of Veri, a very nice guy whom I don't know all that well. I gave him an enormous hug and explained that I sort of needed to hug someone. Oh come on, as if you didn't. I recognized where my friend Maya was by the photos she tweeted – my landmark was this "OBAMA 1, OSAMA 0" sign, but no way was I making it through that crowd to get to her, 50 feet away though she was. Social media helped us know who else was down there, but not in person; you couldn't run into someone by design (alas, FT's John Gapper and UCB's Justin Purnell!) just by serendipity (good to see you, HuffPo/AOL's Rob Fishman). I recognized Morning Joe's Louis Burgdorf who I had last espied the previous night, dressed all fancy in the concourse of the Washington Hilton. Based on the juxtaposition, I think we tipped from "people who probably wouldn't say hi" to "people who will next time totally say hi." Circumstances.
The crowed was mixed, but pretty solidly young – a line of NYUers bearing candles led a candle-conga line, Pace University kids flooded the streets, followed soon by a cheering influx of kids from Fordham. Atop a phone booth – still useful! – two guys in their mid-20s stood and fist-pumped the air. On the corner of Church & Vesey some dudes had climbed halfway up the traffic light pole and were rallying the crowd. Veteran and IAVA founder Paul Rieckhoff tweeted, "Lots of vets down here. And drunk college students. And drunk vet college students. Gotta love the #GIBill." Intermixed with the crowd were two sailors, earning chants of "Thank You" from the crowd; a bagpiper playing the national anthem; Lt. Dan Choi in full dress blues; a group who gamely tried a rendition of "Party In The U.S.A."; German tourists who said, "Zay are singing a Miley Cyrus song."
The crowd got fuller, and, to be honest, drunker. A crew with a Boombox set up photogenically atop the back of a truck, first blasting "Born In The USA" and then "Proud To Be An American," as the crowd lustily sang along. The kids on the traffic pole got bolder, and one slid out over the crowd, balanced on the pole between his legs in a manner that did not look comfortable. He flung up his arms in a manner reminiscent of "Always Famous" and let out a "WHOOO!" as the crowd whoo'd back. Then he slid out further and the pole swayed, and the crowd switched to "Nooooo!" Underneath him, a solid crowd of people were there to break his fall with their heads, but mercifully he retreated.
I think this was around the time where Rieckhoff tweeted "It's feeling too much like Times Square on New Years Eve down here (and not in a good way). I'm out." This was also around the time a cute blonde girl climbed halfway up the traffic pole and lifted up her shirt. From what I read of Alexis Madrigal's account of the celebrations outside the White House, this is the kind of behaviour he found wearying — then again, any spontaneous street party beginning circa 11 pm on a Sunday will likely rule out sitter-less parents and the elderly. It actually reminded me of the fundraising, morale-raising "Concert For New York City" in October 2001, when firefighter Mike Moran, who lost his brother and 12 colleagues, got onstage and shouted, "Osama bin Laden, you can kiss my royal Irish ass!" The New York Times, scandalized, did not report it (though it had happened on live cable TV). People celebrate as they will. This was no somber memorial service, organized and plotted. As Madrigal pointed out, such things are spontaneous and no one is in charge. I asked a nearby policeman what he'd do if it got out of hand. He laughed and said nah, everyone was just having a good time.
Most of them were teenagers when the planes flew into the twin towers of the World Trade Center, and into the Pentagon, and down into a field in Shanksville, Pennsylvania. They'll celebrate differently than people who were there. (Speaking of, for the first time in almost a decade last night, I recalled the phrase "terror sex." That's one thing, at least, that we've got on the millennials.) But more broadly, it's just how strangers get together to celebrate on an otherwise random, pretty desolate streetcorner at 1, 2, 3 a.m. – if they don't want to leave, they've got to do something. What really matters is doing it together. I know this, because it took until 3 a.m. for me to finally head home.
At one point a cameraman asked me if it felt like closure. I hesitated, because I wasn't sure – I think that despite the unfinished, unlooming towers closure just sort of collectively happened a few years ago. How otherwise could Twitter have been so thoroughly suffused with jokes, cracking me up even through my welling emotion? The time has well passed to say "too soon," after all. But on the flip side, the wars begun thanks to Osama bin Laden are by no means unfinished, nor are their repercussions. Dave Weigel today tells about a man whose son fought in Iraq, been injured but survived, came home, and then committed suicide. Veterans today still wrestle with the demons of their time at war. So to say that this one event neatly zips it shut is a misnomer, too. It's not closure because the moving on had to happen, always happens; but also, because the wound gapes open still.
But yeah, it felt good. Especially compared to the usual gatherings down there.
Have a tip we should know? tips@mediaite.com