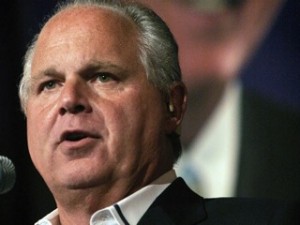 To Media Matters and other left wing groups dedicated to silencing all opposing speech, the adrenaline surge caused by Rush Limbaugh's controversial Sandra Fluke commentary must have tickled their knee-jerk reflexes the way blood chum in the water stimulates a shark. Hoping one of the strongest voices for conservatism had at long last made a lethal gaffe, these dedicated statist non-profiteers grabbed the modern equivalent of torches and pitchforks and in order to lay siege to the sponsors who advertise on Limbaugh's lucrative and very much for-profit enterprise.
RELATED: Washington Post Declares Rush Limbaugh Boycott Nearly Over, Failed
Two small market radio stations caved under the onslaught of computer generated spam, as did a small few of Rush's EIB sponsors. The sponsors who pulled out have experienced a significant financial backlash from jumping ship and some have asked to restore their relationship of the popular talk radio program. Most of the fleeing advertisers reported in the mainstream media purchased ad slots from the local affiliates airing the program and their decision had no impact The Rush Limbaugh Show's very healthy bottom line.
I successfully called into Rush's program on the Wednesday following the Mississippi and Alabama primaries, just a couple weeks after the controversy erupted. We had spoken once previously and I reminded him that when we last spoke he humorously declared that Hugo Chavez had nationalized my fifth novel.
My new thriller features a prolonged GOP nomination struggle and a brokered convention as major plot elements, so I asked Rush if he thought the situation unfolding in the real world offered any advantage to President Obama. Rush gave a detailed response to my query, and then he decided to have a little fun and inquired about my new book.
Anyone who has listened to Rush for any significant period of time knows that he is a voracious reader who loves thrillers. Vince Flynn, Steve Berry, Ted Bell and the like populate his iPad, providing him with an entertaining respite from the hard work required to prepare and perform a three-hour radio show five days a week. At his prompting, I gave Rush the equivalent of an elevator pitch for The Liberty Intrigue. He then bought a copy of the eBook as we spoke, and skimmed through the first few pages for his audience.
The call morphed into a promo for conservative thriller and Rush heartily welcomed me aboard as a one-time EIB sponsor. Some on the left took our light-hearted exchange as a sign of success—that so many advertisers had fled from Rush that he was reduced to shilling books. In their eyes, my call was nothing more than a scripted ad. As further evidence that the fix was in, these folks noted that a quote from New York Times bestselling author David Limbaugh graces the cover of my book.
Since my call, I have received a number of messages (mostly electronic spam) from people ranting about Rush's hate speech and asking me to pull my ads from his show. I only wish my publisher could afford the confiscatory ad rates that Rush charges his sponsors. If the sales boost Rush gave my book is any indication, the loyalty and buying power of the Limbaugh audience remains as steadfast and solid as ever.
To paraphrase James Carville: It's the audience, stupid! Those mounting the quixotic campaign against Rush's sponsors and affiliates simply fail to recognize that, in a free market, it's the audience that determines a program's reach and how many advertisers it draws. Mirroring Rush's success in connecting with his 20 million–plus loyal listeners is the utter failure of the progressive talk radio network Air America.
Tom Grace is a No. 1 internationally bestselling author (AP), an architect in private practice, and a proud honorary EIB sponsor. His sixth novel, The Liberty Intrigue, is a political thriller set in a present-day US presidential election. Follow him on Twitter @tom_grace, on Facebook at AuthorTomGrace and his website www.tomgrace.net. COPYRIGHT 2012 KILKENNY GROUP, LLC.
Have a tip we should know? tips@mediaite.com