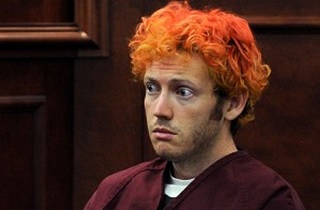 About a month before the deadly mass shooting at an Aurora, Colorado movie theater, psychiatrist Dr. Lynne Fenton warned campus police at the University of Colorado that James Holmes was dangerous, according to documents released by prosecutors. Police deactivated Holmes' student ID, but according to reports, it is unclear what else, if anything, was done with the information provided by Dr. Fenton. Holmes, of course, would go on to kill 12 people, and wound 58 others, in that horrific shooting.
Dr. Lynne Fenton told university police that Holmes talked about killing people.

The warnings didn't stop the spray of gunfire weeks later, on July 20, 2012, that took the lives of 12 people and wounded dozens more at the premiere of the Batman movie "The Dark Knight Rises."

It is unclear what was done with Fenton's information.

…Fenton, who works on the medical campus, contacted police in June about Holmes, according to a search warrant affidavit.

"Dr. Fenton was advising that she had been treating Holmes, and that Holmes had stopped seeing her and had begun threatening her via text message," the affidavit said.

Holmes mailed her a frightful package. Inside were $400 in burned $20 bills, a sticky note with an infinity sign, and a spiral notebook containing a placard. Written on it: "James Holmes, Of Life," according to the documents.
Prosecutors also recently announced that they will seek the death penalty in Holmes' case.
In the wake of the mass shooting in Newtown, just months after the Aurora massacre, mental health has become one of the focuses of the discussion on how to prevent shootings of this nature. Fixing the system so that warnings such as these are heeded is a worthy endeavor, but there are some who would use this as an excuse to make it easier to incarcerate the mentally ill. It has taken decades for the treatment of mental illness to progress beyond simply committing and/or lobotomizing people, to actually making them better. Mental health professionals are also concerned that increased reporting requirements will result in deterring patients from seeking treatment. In cases like Holmes', though, that seems to be a risk worth taking.
While it is somewhat tough to thread the needle on reporting, there is a somewhat compelling correlation between state mental health spending and gun violence. States that spend well below the national average on mental health services and treatment have above-average rates of gun death, while states that spend more tend to be near or below average for gun deaths. Mental health should be a large part of the gun violence discussion (especially concerning background checks), but the emphasis should not be on making it easier to lock people up.
(Not so) curiously absent from the reporting on the Aurora shooter is any indication at all that he was anywhere on the autism spectrum, despite MSNBC host Joe Scarborough's assertion, at the time, that mass shooters are "somewhere on the autism scale…more often than not."
Aside from seemingly reliable reporting that the Newtown shooter had an Autism Spectrum Disorder, there have been no other confirmed cases of mass murderers with an ASD, and no evidence to suggest any link between ASDs and mass murder.
Have a tip we should know? [email protected]