AZ Sect. Of State Threatens To Remove Obama From Ballot Without Birth Certificate Verification From Hawaii
AZ Secretary Of State Threatens To Remove Obama From Ballot...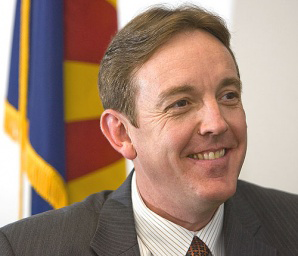 Yesterday, there was a bit of hoopla over a 1991 bio of President Barack Obama, in which a literary agent incorrectly wrote he was born in Kenya — fuel to the birther fire, without a doubt. Now, Arizona Secretary of State Ken Bennett is taking things a little further: threatening to keep Obama's name off the state's ballot in November if he doesn't get confirmation from Hawaii that Obama's birth certificate is valid. Bennett said he's responding to constituents' request, and isn't a birther himself.
Bennett spoke to KFYI radio host Mike Broomhead on Thursday, noting he'd requested said confirmation eight weeks ago — but hasn't heard back. (Hawaii, he said, has a system through which they'll verify a birth certificate in lieu of giving a copy of it.) In an email to Jerome Corsi, a birther himself, Bennett wrote:
"Because of the importance and profile of the president's case, and at the request of many constituents, I have gone the extra step of asking the state of Hawaii to verify the facts contained in his birth certificate.
[…]
"Whether or not that happens, if Hawaii can't or won't provide verification of the president's birth certificate, I will not put his name on the ballot."
The Phoenix New Times confirmed that Bennett did send that email:
"Mr. Bennett wrote that email," Bennett's spokesman Matt Roberts says. "With respect to the story, a constituent requested him to request a verification in lieu of certified copy. They have yet to respond."
Bennett said he'd received about 1200 requests to verify the birth certificate, and it's his responsibility to verify the name's on the ballot. He told Broomhead he's not a birther himself, and also denied playing to the birther crowd (given his gubernatorial aspirations). "I believe the president was born in Hawaii – or at least I hope he was," Bennett said.
Here's the interview with Broomhead:

(H/T Phoenix New Times)
Have a tip we should know? tips@mediaite.com