Rep. Bachmann On Herman Cain's 'Reassessment': He Recognizes Support Has Dropped 'Because Of Those Questions'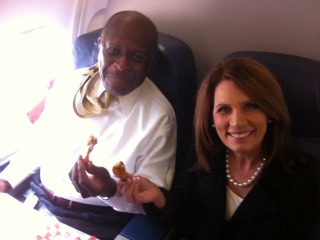 GOP presidential hopeful Michele Bachmann spoke with Des Moines radio host Jan Mickelson this morning, taking some time to weigh in on Herman Cain's latest reaction to the multiple allegations of sexual harassment being lobbed against him.
Responding to a Tweet that Cain was "reassessing" his campaign (most likely this Tweet by the National Review's Robert Costa), Bachmann opined that Cain's people were evaluating what to do in light of a drop in support:
RELATED: Report: Herman Cain 'Reassessing' Whether To Stay In GOP Race
I think the language that's used in particular in the Tweet is code language for the fact that they're looking at the viability of their effort moving forward. I think that they recognize that the support has really dropped out of their campaign because of those questions.
The two to beat at this point, she added, are Mitt Romney and Barack Obama:
That goes back to the message we've been trying to get out to people across Iowa, and that's that I do have a core of conviction, I've been the consistent conservative in the race and as people have been shopping around for the candidates I think they're going to come back home and see I've been the consistent, constitutional conservative who's going to fight. I'll be the strongest candidate to battle against I think Mitt Romney and Barack Obama.
Bachmann also took a jab at a recent book purchase by the President. "I heard one of the latest books that the president bought was Diary of a Wimpy Kid," she said, "so we have a little bit different reading lists." She later added that her comment was "tongue in cheek."
h/t Des Moines Register – Iowa Caucuses
Have a tip we should know? tips@mediaite.com