Alec Baldwin Lashes Out at MSNBC: Mocks Phil Griffin, Calls Maddow a 'Phony'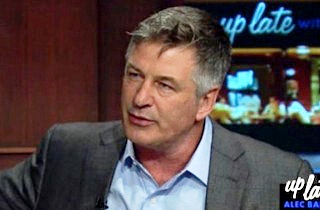 "I haven't changed, but public life has," State and Main star Alec Baldwin wrote (or rather told to Joe Hogan) in this week's New York cover story in which the embattled Baldwin officially bid adieu to the profiled life.
Baldwin had a nasty professional year in 2013, featuring several incidents in which he was accused of using homophobic slurs (Baldwin disputes these in the piece), and getting an MSNBC talk show (which he claims he never wanted) that barely made it out of the starting gate.
Baldwin said those incidents have taken their toll, and he exited the spotlight Monday morning with a middle finger for many of his past employers, especially MSNBC. There's also a lot about Shia LaBeouf, another celebrity who's experienced some well-broadcasted troubles.
Les highlights:
On MSNBC: "It turned out to be the same shit all day long. The only difference was who was actually pulling off whatever act they had come up with. Morning Joe was boring. Scarborough is neither eloquent nor funny. And merely cranky doesn't always work well in the morning. Mika B. is the Margaret Dumont of cable news…The problem with everybody on MSNBC is none of them are funny, although that doesn't prevent them from trying to be."
On Phil Griffin: "All he wanted to talk about was Giants tickets, Super Bowl tickets, restaurants, movies. The conversations about the set, about the physical production of the show, cameras, lighting—it seemed like he wanted to get those over with as quickly as possible. He didn't care. He had four monitors on the wall. They were all on, muted. He never listened to them. He never watched them."
On Maddow: "I think Rachel Maddow is quite good at what she does. I also think she's a phony who doesn't have the same passion for the truth off-camera that she seems to have on the air."
On the media: "Now I loathe and despise the media in a way I did not think possible. I used to engage with the media knowing that some of it would be adversarial, but now it's superfluous at best and toxic at its worst. If MSNBC went off the air tomorrow, what difference would it make? If the Huffington Post went out of business tomorrow, what difference would it make?"
On New York City: "I probably have to move out of New York. I just can't live in New York anymore. Everything I hated about L.A. I'm beginning to crave. L.A. is a place where you live behind a gate, you get in a car, your interaction with the public is minimal. I used to hate that. But New York has changed."
[h/t New York]
[Image via screengrab]
——
>> Follow Evan McMurry (@evanmcmurry) on Twitter
Have a tip we should know? [email protected]