Lethal Injection Drug Shortages Lead OK Officials to Barter with Football Tickets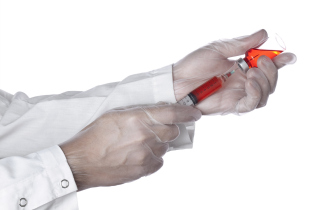 American citizens aren't the only ones for whom the supply of drugs can scarcely keep up with demand. States themselves are having a harder time getting a fix of the killer stuff in recent years. Literally, that is.

Major suppliers of lethal injection drugs, most of whom are based in Europe, have become reluctant to be a party, even indirectly, to the implementation of the barbaric system, forcing states where capital punishment is still legal to wade into a sort of ethically murky, and questionably legal market of compounding pharmacies, sort of state-sanctioned middle men. Walter White with a government contract if you will.
Even those compounding pharmacies have begun to blanch at their role, saying the ethical concerts and bad publicity that comes with the territory doesn't make it worth the trouble. As a result, it's become harder and harder for the 32 states where it's legal like Texas, Ohio, Missouri, and Oklahoma to get their hands on drugs that are regularly used in executions.
But, as any good drug dealer will tell you, when supply dries up, just cut the stuff down. Who's going to complain, junkies? Even less likely to complain are dead men. But, as we've seen with the recent postponement of two executions in Oklahoma, some, or at least their lawyers, are starting to. The result of the shortage, lawyers for the two Oklahoma convicts and opponents of the death penalty say, are drug cocktails that are slower to take effect, and more painful than they would be with the proper dosages. All because of the secrecy under which the drugs are procured in the first place.
As the Colorado Independent reports:
Oklahoma has bought lethal injection doses using petty cash accounts that allow the state to protect the identity and avoid scrutiny of its suppliers. Officials won't say who manufactured and sold the drugs used in at least the last 11 executions, or whether the doses are pure enough to meet what the U.S. Supreme Court has ruled is an obligation to carry out the death penalty as humanely as possible.

The source of Oklahoma's drugs is a state secret. "The identity of all persons who participate in or administer the execution process and persons who supply the drugs, medical supplies or medical equipment for the execution shall be confidential and shall not be subject to discovery in any civil or criminal proceedings," according to a law passed in 2011 after drug companies stopped selling their products to kill prisoners.
Not that anyone involved really seems to care about the well-being of the convicted murderers. No one wants to be held liable for a wrongful suffering. As USA Today points out, "condemned prisoners have flooded courts with lawsuits, arguing that chemicals made by so-called compounding pharmacies may be impure and ultimately cause them to suffer during the execution process.
Documents uncovered by the Independent show the lengths to which states have gone to procure the necessary drugs, engaging in a sort of barter system. Don't worry, it's all on the up and up. Depending on how soulless you are, that is. More from the Independent:
Oklahoma Assistant Attorney General Seth Branham quipped in a January 2011 email to a colleague that Oklahoma might cooperate in exchange for much sought-after 50-yard-line tickets to the Red River Rivalry, a football game between the University of Oklahoma and the University of Texas. In a reply, fellow Assistant Attorney General Stephen J. Krise joked that for Oklahoma's assistance Texas's team should intentionally lose several games.
What's the value of a human life — or a country's moral compass — worth when there's something important of value at stake, like a football game?
— —
>> Luke O'Neil is a journalist and blogger in Boston. Follow him on Twitter (@lukeoneil47).
Have a tip we should know? tips@mediaite.com