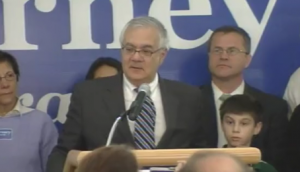 "People will advise me, sometimes, to be more judicious," began Barney Frank before launching into an epic slam against the media, primarily the Boston Herald and Fox News, right in the middle of his acceptance speech. Frank said that sometimes you have to "bite your tongue," but his tongue remained firmly unbitten. The speech was about as Barney Frank as Barney Frank can get and, therefore, you can probably guess as to how your mileage will vary.
Here's what he said:
"And also, as Jim [Ready] reminded me, I have the media involved here. Let me say, people will advise me, sometimes, to be more judicious and sometimes I will be. But, with the election of all ten Democratic Congressmen, it appears, and Governor Patrick, one of the things we can acknowledge tonight is that Massachusetts has reaffirmed the complete political irrelevance of the Boston Herald. There was no limit to the bias and vitriol they unleashed. And it had no impact so good for Massachusetts.

I also will say that the influence of Fox News does not, in the end, appear to be very great either and that is a further tribute to the people of Massachusetts."
The Herald's Howie Carr was not thrilled with the comments. He's responded thusly:
"Can someone say "irrelevant?" Think, a 70-year-old has-been?

…

See, no one is supposed to say anything about Barney. Certainly the Globe treats him with kid gloves. For example, he's present at a house in Maine with marijuana plants growing, but he doesn't know what marijuana looks like. He used to live with a male prostitute named Hot Bottom, but you can't mention that either, because it's homophobia. And then there was Barney's former partner, Herb Moses, who made a six-figure salary at Fannie or Freddie – I can never remember which.

Personally, I thought a defeat yesterday would have been great for Barney. At age 70, it would have given him a chance to do something he hasn't done since he was 18.

Work at a real job."
So, was Frank being judicious with this assault or is he just asking for more heavy criticism from the Herald and Fox News (as Dana Milbank pointed out, Megyn Kelly responded to Frank's victory by saying "Alas.")
Check out video of the speech below. The discussion of the media begins around 3:10. While you're watching, make sure to check out the hilarious reactions of the wide eyed kid standing next to Frank.
(h/t Hot Air)
Have a tip we should know? tips@mediaite.com