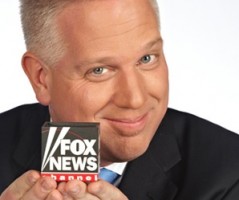 Much has been made of the "Color of Change" lead advertiser boycott of the Glenn Beck show on Fox News. We've previously suggested that the companies involved in the boycott were wimping out by just moving their ads to different programs on Fox News. In fact, Fox News has told Mediaite that no revenue has been lost. In an exclusive interview, Color of Change co-founder James Rucker reveals the strategies, goals and possible next targets of the Glenn Beck boycott.
Beck returned from vacation this week, and some Internet commenters have noticed that there appear to be less (or shorter) advertisements during his show. In fact, yesterday's program appeared to have skipped its first commercial break — its first segment lasted roughly 18 minutes (nearly twice the normal length of an opening segment). When asked about this, a Fox News publicist spokesperson offered no further comment clarified that Glenn Beck's show has always been a five segment show, and the first segment typically runs 15 to 18 20 minutes in length.
Our interview with James Rucker:
Q – How is it going so far?
A – So far 36 Advertisers have pulled their spots from the Glenn Beck show, or otherwise made sure that they won't air on his program. Right now I'd say things are going relatively well.
Q – What is the stated goal of the boycott?
A – Our goal is to make companies aware that they are enabling Glenn Beck — their dollars are what gives him a very large platform – a platform that is being used to divide the country with false information masquerading as news.
Q – Fox News has gone on record saying that that boycott has not cost them any ad dollars. Just how effective is the boycott?
A – It's probably fair to say that they haven't lost ad dollars yet, but the key word is "yet." Right now you have advertisers with existing commitments, and they are moving ads to other programs. For those advertisers – when they are up for a new contract who knows what will happen. They may stay on other programs, or they may just leave Fox altogether. But at the end of the day our goal isn't to remove dollars from Fox News.  It's to reduce the value of Beck's show.
Q – But if you truly want to effect change, isn't the goal to have Fox lose money?
A – From my understanding — and you can correct me if I'm wrong — there are a few ways to buy ads. Companies that want to advertise can specify price and which eyeballs, meaning that some are willing to pay for the whole network, and there are advertisers that are paying a premium to advertise on a specific program or time slot. We're trying to decrease the number of of ads that are paid to run on Glenn Beck, so it decreases the value of the ads. He's in a prime spot at 5pm — we're hoping to drive down the value of the ads on his show.
Q – So what is the actual desired net effect of your boycott?
A – Now it may be the case that Glenn Beck is glad to be validated by a small self-marginalizing group. It may be that Fox is comfortable being a validator of this marginalized group that peddles race-based fears. But it's my guess is that Fox does not want that to be what their brand is about. I'm not sure that they want to be seen as promoters or enablers of race baiting.
Q – Enablers of race baiting?
A – Sure — they provide the platform for Glenn Beck and everyone else at Fox News — when you see the pattern of what he has said: "Obama said, quote: 'We have got to have a civilian national security force that is just as powerful, just as strong, just as well funded as the military.'" Or "Obama wants an America that looks more like Acorn", or that Obama's stated goal is "remaking America that will settle old racial scores" – this is a theme that he's been hitting on repeatedly.
Q – So what do you make of Fox's official comment that Glenn Beck's opinions are his own and do not reflect the opinions of Fox News.
A – When Fox says that its just his opinion, and that they are somehow not responsible it rings hollow. They are buying the megaphone and providing him the stage, and then they say "it's him and not me." It rings hollow. Does Fox believe this controversy is good for ratings or their business? Perhaps. But for them to call themselves a news network, then let Glenn Beck use their platform as he does – it's beyond irresponsible. It's reprehensible.
Q – Would you ever consider expanding your boycott to Fox News?
A – Right now the focus is on Glenn Beck.  Of course, should Fox continue to stand behind Beck as he uses his platform to put out false information as news or news commentary, they are making themselves a target.
Q – What would have to happen for you to set your sites on the network and not just the show?
A – I wouldn't comment much more on this at this point.
Have a tip we should know? tips@mediaite.com