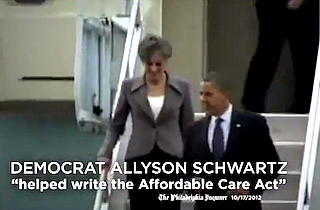 Way back in 2012, then-Democratic candidate Heidi Heitkamp (D-ND) made headlines when she cut a campaign ad that didn't entirely dismiss Obamacare — a big deal, as Heitkamp was running in red/swing state North Dakota, where she eventually eked out a Senate victory.

But the few pro-Obamacare ads we've seen this cycle make Heitkamp's look lukewarm. Senator Mark Begich (D-AK) recently ran a spot touting the Affordable Care Act's provision on pre-existing conditions. And on Tuesday, Representative and Pennsylvania gubernatorial candidate Allyson Schwartz (D-PA) released "Proud," a bold and full-throated defense of her role in passing the ACA. There's no hemming or hawing here:
As you can tell from the screengrab above, Schwartz is not only acknowledging the existence of the ACA, but citing her role in writing it, and over footage of her and President Barack Obama, a man unwelcome on some Democratic campaign trails.
Caveat: Schwartz is running the ad in a contested (and congested) Democratic primary, not against a GOP candidate in the general. But if (unpopular) incumbent Governor Tom Corbett (R-PA) wants to tar her with the ACA, he now has the YouTube embed to do so.
As the 2014 midterms approach, attention is focusing on whether Democratic candidates will run on a law still unpopular, especially after Democrat Alex Sink's defeat in FL-13's special election. If Schwartz and Begich are any indication, not every vulnerable Democrat is hiding from Obamacare—some are touting it.
[h/t Greg Sargent]
[Image via screengrab]
——
>> Follow Evan McMurry (@evanmcmurry) on Twitter
Have a tip we should know? tips@mediaite.com