Ben Carson Goes All Olympics and Compares Trump Camp Shakeup to a Relay Race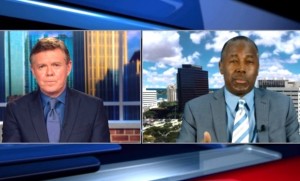 Today on CNN's Newsroom, Ben Carson showed up to talk about Donald Trump's outreach to black voters. The topic hasn't been faring particularly well on cable news lately, but that has never stopped Carson from trying. (He's known for his doggedness, remember: When he refused to drop out of the Republican primary race, he compared his story to that of the tortoise and the hare.)
Somewhat inexplicably, he said, "Remember, the Republican party traditionally has really not reached out to the African American community, to the Hispanic community in the way that they should have. This is the beginning of that process. It will continue, it will roll the right way, but the key thing here is we're all in the same boat and if part of the boat sinks the rest of are going down too." That negativity and doomsday-esque talk echoes Trump's statements from yesterday about voters of color having nothing to lose by voting for him since their lives, in his view, can't get worse.
It was after the sinking boat statement that Carson made what is arguably his best analogy to date. It was very current and topical. He compared the big Trump campaign shakeups to an Olympic relay race! Word for word, here is his exchange with Martin Savidge:
CARSON: It's sort of like — since we're coming to the end of the Olympics, a good example, you know, is a race. A relay race. You have your starter, [Corey Lewandowski] did a great job as the starter. Then you have your middle man, which was [Paul Manafort]. [He] did a tremendous job, particularly with the delegate situation being very precarious…

SAVIDGE: …Get's him through the convention…

CARSON: … and now we bring in the finishers.
Lewandowski and Manafort were both reportedly booted from their positions as campaign manager and chairman, respectively. Trump has now enlisted Breitbart's Steve Bannon as CEO and pollster Kellyanne Conway as manager to help him with his campaign, which has led to a lot of speculation about how serious he really is about winning the White House.
To put that in Carson terms, it has led to a lot of speculation about how serious he really is about winning the race.
[image via screengrab]
Have a tip we should know? tips@mediaite.com