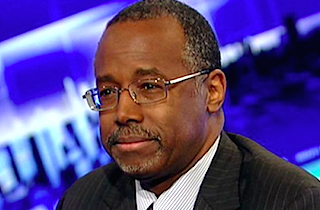 Remember when Ben Carson said he wasn't going to talk about gay rights issues anymore?
Well, apparently that does not apply to Indiana's controversial "religious freedom" law that would allow businesses to discriminate against LGBT customers.
"It is absolutely vital that we do all we can to allow Americans to practice their religious ways, while simultaneously ensuring that no one's beliefs infringe upon those of others," Carson said in an "exclusive" statement to Breitbart News. "We should also serve as champions of freedom of religion throughout the world"
"As Americans, we have an obligation to denounce these acts of persecution. For when we stand up to such intolerance, we are defending the root of our freedom, both at home and abroad," he added, equating preventing discrimination against gays to "intolerance."
–RELATED: S.E. Cupp: Conservatives Need to 'Get Serious' About 2016 and Ignore Ben Carson
Earlier this month, Carson, who is still mulling over a potential decision to run for the 2016 Republican presidential nomination, told CNN's Chris Cuomo that he knows being gay is "absolutely" a choice because people go into prison straight and come out gay.
When the inevitable backlash ensued, he told Sean Hannity, "I simply have decided I'm not really going to talk about that issue anymore because every time I'm gaining momentum the liberal press says, 'Let's talk about gay rights.' And I'm just not going to fall for that anymore."
So, when the "liberal press" asks him about gay rights, he will decline. But when the conservative media asks him to comment on religious rights that actively infringe gay rights, then he's happy to oblige.
[Photo via Fox/screengrab]
— —
>> Follow Matt Wilstein (@TheMattWilstein) on Twitter
Have a tip we should know? tips@mediaite.com