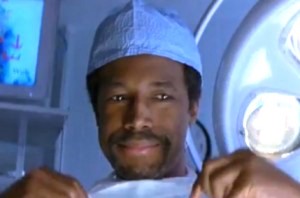 Yet another blast from Republican presidential candidate Ben Carson's past has come back to haunt the former brain surgeon. This time, however, the controversy has more to do with alleged instances of medical malpractice than his comments on the Oregon shooting.
No, we're not talking about Carson's cameo in the 2003 comedy Stuck on You. This has more to do with a National Enquirer story that was linked to by the Drudge Report on Thursday morning. The story, which Drudge dubbed "NATIONAL ENQUIRER TAKES SCALPEL TO BEN CARSON; LEFT SPONGE IN PATIENT'S BRAIN!" discusses allegations of malpractice from Carson's days as a neurosurgeon.
Fox News Radio host Alan Colmes brought up the story on Wednesday when Carson was his guest. When he asked the second-most popular GOP presidential contender about the claims, Carson responded in kind.
"My reaction is that I did 15,000 operations," he said, "and the people who oppose me have been crawling through every ditch, every place I've ever been my whole life looking for stuff. They found five or six disgruntled people, that's a very small number, and many of those cases never went anywhere, because the legal system said, 'Are you kidding me?' and threw it out. But the point is you don't discuss that kind of stuff in public, number one."
"Number two," Carson continued, "that's not for public discussion by any stretch of the imagination. And I would probably find myself in some difficulty if I do begin to discuss that stuff publicly. But generally speaking there is no one who does the number of operations that I did who aren't going to find some people who are going to be disgruntled."
When asked whether or not he left a sponge in a patient's brain, Carson suggested what actually happened was a bad reaction to medical materials used during an operation.
"It is true that we put a certain type of sponge in to pad things away and sometimes there is a reaction to that sponge and that's what happened."
Check out the clip above, via Fox News Radio.
[h/t BuzzFeed]
[Image via screengrab]
— —
>> Follow Andrew Husband (@AndrewHusband) on Twitter
Have a tip we should know? tips@mediaite.com