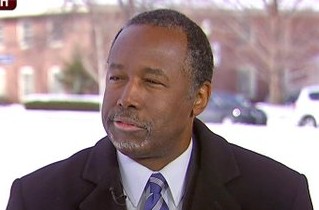 The Washington Post reports that Dr. Ben Carson's prepared remarks during the Thursday confirmation hearing on his nomination for Secretary of Housing and Urban Development contained passages lifted wholesale from an academic study without attribution.
Here's what Carson planned to say, submitted by Carson and still a part of the official record of the Senate Banking Committee.
Deteriorating paint in older homes is the primary source of lead exposure for children, who ingest paint chips and inhale lead-contaminated dust. Between 1998 and 2000, a quarter of the nation's housing — 24 million homes — was estimated to have significant lead-based paint hazards.

Substandard housing conditions such as water leaks, poor ventilation, dirty carpets and pest infestation can lead to an increase in mold, mites and other allergens associated with poor health. Indoor allergens and damp housing conditions play an important role in the development and exacerbation of respiratory conditions including asthma, which currently affects over 20 million Americans and is the most common chronic disease among children. Approximately forty percent of diagnosed asthma among children is believed to be attributable to residential exposures. In 2004, the cost of preventable hospitalizations for asthma was $1.4 billion, a 30 percent increase from 2000.
That text was lifted word-for-word from a paper published eight years ago titled  "Where We Live Matters for Our Health." In the end, Carson chose to depart almost entirely from his prepared remarks and speak off-the-cuff.
Carson's spokesperson told WaPo it was an honest mistake. "The original written statement was sourced with hyperlinks and footnotes, but unfortunately that seems to have fallen off," she told them.
The accusation comes after Carson apologized during the 2016 presidential campaign after multiple instances of plagiarism were discovered in one of his books. In also comes after revelations that incoming Trump foreign policy advisor Monica Crowley plagiarized at nearly every step of her professional career, including her PhD dissertation, her Washington Times op-ed, and her 2012 book "What the (Bleep) Just Happened?"
[Image via screengrab]
—
>>Follow Alex Griswold (@HashtagGriswold) on Twitter
Have a tip we should know? tips@mediaite.com