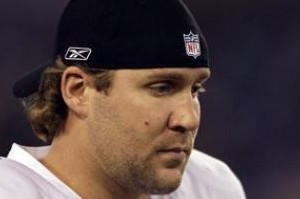 Writing yesterday morning at Huffington Post (before Ben Roehtlisberger's six-game suspension was announced), Dexter Rogers shared a lengthy collection of his thoughts about the way the media covered the sexual assault accusations against to the Pittsburgh Steelers' quarterback. He looked at the scenario from the lens of recent situations across both the NFL and sports world. He's justified in his attempt:  it's safe to say, for some time to come, that many writers will look at the transgressions of every athlete in comparison to Tiger Woods.
It would be fine to try and draw the parallels, but Rogers has a bigger gripe, and it is calling out that "one of these things is not like the other" when comparing Big Ben's treatment by the league, law enforcement and the media. The headline foretells exactly the story Rogers wants to paint: "Does the Media Cover White Athletes More Favorably?" As he wrote:
What makes Roethlisberger so special that the media requests nothing of him but expected the world from Tiger Woods?

Mainstream media is mostly comprised of white males. Facts indicate 94, 88, and 87 percent of the Sports Editors, Columnists and Reports are white males. In essence, white males are covering a world of professional sports where many of the marquee athletes are African-American. There simply isn't enough parity in the media to provide balanced coverage.

The latter helps to explain why white athletes like Roethlisberger receive more favorable coverage than the likes of Vick, Burress and Woods.

A level of consistency must be administered when covering all athletes. When turmoil visited Woods it was written and talked about consistently. No issues with the latter whatsoever. But the same should hold true for Roethlisberger as well. What's good for the goose is good for the gander.
There are two ways to go with this response.
The primary argument in response to Rogers would unfortunately get dangerously close to me defending Roethlisberger's actions, and in no way do I want to do that. There's some good points in that rejoinder, though. First, the facts of his case are still up for debate, but a Georgia D.A.'s decision to not prosecute based on lack of evidence is, (a) not a racial bias and (b) not him trying to take the place of a jury in the court procedure. I also want to avoid putting his accusations in the same camp as other athletes, too, because its apples and oranges when you start talking about a guy who has a history of non-helmet wearing boneheadeded moves and other outstanding accusations (something Rogers noted) in relation to the cases of a serial cheater/fallen role model, a guy who organized an illegal gambling and dog fighting operation and a wide receiver who brought a loaded gun into a nightclub.
I want to take this the other direction, though. I want to talk about what has been covered excessively and how the league is handling the situation. I've joked that NFL Commissioner Roger Goodell is a "hanging judge," a distinction I give him since he's benched a total of 14 players in his four-year tenure for infractions ranging from manslaughter/DUI to probation violations as well as the aforementioned crimes. Although Rogers' column was up before the announcement of Big Ben's league punishment, to think that he was going to get off scot-free is crazy. Goodell laying down six games – to a guy who hasn't actually been charged of anything! – is comparatively one of the most severe punishments he's doled out. Those other suspensions have all involved legal charges being filed against those players, and Ben is getting six for "violating the conduct policy."
To say that media is ignoring this story specifically because of the skin color of the majority of its reporters is also off-base, but not because of the latter point. It's more because the media has not exactly just put this story in the bottom half of broadcasts.  Sportscenter has given it good-sized coverage throughout the last few weeks (and you know they'd rather be talking about tonight's first round of the NFL Draft), and there has been national media weighing in well beyond the Pittsburgh market. ESPN has dedicated a sidebar throughout the NFL section to congregating the coverage, which features more than a dozen national columnists – including a very heavy-handed piece by Gene Wojciechowski – calling for more explanation and punishment:
I'd be stunned — and disappointed — if NFL commissioner Roger Goodell doesn't bring the wood and suspend Boozin' Ben for at least three games and preferably four: two games for embarrassing his team and the league, another two for being dumber than a blocking sled.

Forget, if you can, that Roethlisberger has left a trail of police reports from Lake Tahoe to Milledgeville, Ga. Or that women seem to accuse him of sexual assault a lot. Or that he's lucky to be alive after a 2006 motorcycle accident. (Go figure: A guy who wears a helmet for a living didn't wear one on a motorcycle.
Big Ben wasn't going to get the TMZ-style coverage that Tiger got…but that's more to do with the profile of accusers and the golf superstar than the color of their respective skins. There were no adult film starts, salty voicemails for the quarterback. This is much more of an inside the sports world story, originating from a mid-market and not nationally prominent star. That's how it's being handled., and don't say Roethlisberger is off the hook. That's not only unfair, it's untrue.
Have a tip we should know? tips@mediaite.com