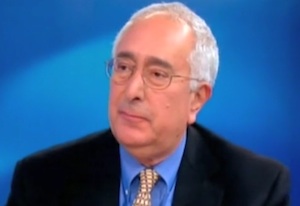 A lot of people have been pointing fingers since violent protests left four American citizens dead at the U.S. Consulate in Libya last week, but political commentator Ben Stein is perhaps the first to lay all the blame on Secretary of State Hillary Clinton, whom he argues is "responsible" for what happened in the Middle East last week.
In an interview with POLITICO, the economics writer said the former first lady erred in this situation and failed to prioritize the safety of her people:
"I think there's been a very, very serious breach of decorum by Mrs. Clinton in not offering to resign over failure to protect her diplomats adequately. She's in charge of the ambassadors, she's in charge of the foreign service. She absolutely should not have let those people go to Benghazi, which she knew was in a state of extreme unrest, without having adequate protections. That was a very serious mistake that cost several people their lives, and she's responsible."
Stein goes on to argue that service men and women deserve much higher paychecks, as there's some serious "moral outrageousness [sic]" in expecting people to put their lives on the line in exchange for a "very meager wage." These individuals, he says, can barely lead middle class lives.
The former speechwriter for presidents Gerald Ford and Richard Nixon also took the time to explain how he feels about the two main presidential contenders:
"When I watched President Obama at the convention, saw his passion and then compared it with Romney, it just made me want to weep."
This isn't a huge surprise. Stein said last month that Romney is a "losing candidate" who "does not have a plan to turn things around." So yeah, things have been looking pretty bleak for a while, according to the lawyer.
Read the full interview here.
Follow Laura (@LauraDonovanUA) on Twitter.
Have a tip we should know? [email protected]