Bernie Feeling Love From Liberal & Conservative Media As Momentum, Money Explode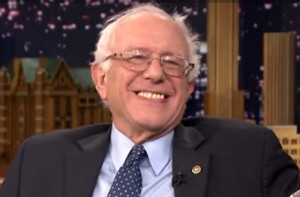 For Bernie Sanders, the toughest test comes next: Getting an effective message out to minorities that he's the guy who will champion the issue most important to them.
If Wednesday was any indication, the Vermont senator is off to the right start via a highly-publicized breakfast meeting with Al Sharpton in Harlem. The Reverend is staying neutral for now, but the optics around such a sit-down and all the play it got on cable news yesterday — along with an appearance on The View — helped Bernie control another positive news cycle… all while Hillary Clinton was MIA following a humbling 21+-point loss in New Hampshire, a state she won in 2008. So while Sharpton is playing a wait-and-see approach, Sanders gained endorsements from the influential columnist/author Ta-Nehisi Coates and ex-NAACP head Ben Jealous in the span of 24 hours. And to help change the narrative more favorably, there was also a story making the mainstream rounds concerning Sanders being arrested in 1963 for protesting segregation in public schools in Chicago.
The one attribute we keep hearing about Bernie is — agree or disagree with his policies and worldview — is his honesty. He truly believes what he says is best for the country and doesn't pander to anyone. He knows, of course, that the black vote is crucial to tearing down Hillary's once-indestructible firewall in Nevada and South Carolina, where (pre-Iowa and New Hampshire) polls show Clinton leading by 20 and 30 points respectively (RCP). Note: The margins largely comes from non-white voters, particularly in the Palmetto state.
But while it was once easy to dismiss Sanders as a guy who can win in a lilly-white state like New Hampshire and virtually tie in an equally-white Iowa, but never in Nevada and South Carolina given Clinton's stranglehold on the minority vote, things appear to be changing now. And here's why: Despite all the media attention Sanders is receiving lately, it takes a long time to enter the collective conscious of those who only casually follow politics outside the bubble. That's very good news for Bernie, because he can still define himself to the minority community on his terms. Hillary can try to do it for him, sure… but as we've seen, the Clintons' (Bill and Hillary) attacks on Sanders aren't landing, aren't believable, because of the target's persona and professionalism (See: Not firing back with personal insults of his own).
As for Sanders selling himself to the minority community, he can simply point to his segregation-protest arrest over 50 years ago or participating in the (civil rights) March on Washington in 1963 and say he's championed equal rights his whole adult life. He can point to his consistent beliefs around income inequality and free college education — two issues that should resonate with minorities who feel they'll been left behind and aren't given the opportunity to pull themselves up — and sell himself as a savior without pandering in an election season that isn't for those who are authenticity-challenged.
The sales process takes time, of course, but social media and 24/7 news helps turn brush fires to wildfires quickly. The online revolution also helps in another key area: Fundraising. Since polls closed Tuesday night, the Sanders campaign has raised over $8 million alone. Average donation: $34. There is real excitement around this campaign, the kind not seen on the Democratic side since another unknown burst on to the scene to turn Hillary's coronation on its head eight years ago. For proof look no further than SNL (stay with me), as this skit (a truly hilarious one, "Bern Your Enthusiasm" starring the great Larry David as Sanders) is all over Facebook and Twitter. Number of views in just four days: 8.74 million.
And then there's this column being widely shared on social media as well by Michelle Alexander (renowned author of The New Jim Crow: Mass Incarceration in the Age of Colorblindness). Title:  Why Hillary Clinton Doesn't Deserve the Black Vote. From the crime bill to welfare reform, policies Bill Clinton enacted—and Hillary Clinton supported—decimated black America. Scathing stuff…
Meanwhile, Bernie is getting Hollywood treatment. Conservative media barely lays a hand on him for ulterior motives, even chuckling along with every Bernie skit and speech while amusingly watching Hillary's phony effort in trying to outflank her opponent on the left. The rest of the media then either focuses on Trump-fueled upheaval on the GOP side or negative news around Hillary.
The stars are aligning for Sanders, a 74-year-old socialist who wasn't even a Democrat until last year. The biggest challenge is next: Earn the trust of minorities in a relatively short period of time enough to be competitive in states Hillary is up big — at least in pre-Iowa and New Hampshire polling which likely has shifted somewhat — and go from there.
It's deja-vu all over again. The Teflon, likable candidate with the press on his side versus the establishment favorite who many can never trust nor warm up to. Bernie rolls the dice in Nevada in nine days next and another big debate on PBS/CNN tonight.
"Enthusiasm is the energy and force that builds literal momentum of the human soul and mind." wrote the great author Bryant McGill.
Bern your enthusiasm isn't just an SNL skit, but a very real thing likely giving the Clinton camp major flashbacks to the nightmare that was 2008.
— —
Follow Joe Concha @JoeConchaTV
Have a tip we should know? tips@mediaite.com