Bernie Madoff: 'Everybody Would Be Better Off' if Money Stopped Influencing Politics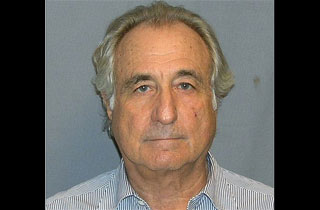 Bernie Madoff, the stockbroker convicted of fraud and the man who ran the largest Ponzi scheme in history, recently told a POLITICO reporter that he, of all people, was pro-campaign finance reform.
"I basically think everybody would be better off… if people weren't able to exert so much influence on politicians with money," he said in a long, wide-ranging interview from prison. "Politicians themselves would probably prefer not to deal with them—both begging for and being beholden."
However, considering who he is and how much money he used to make, it's probably safe to say that his position wasn't entirely altruistic and had more to do by how often he was hit up. Madoff, who donated "hundreds of thousands of dollars" to political figures (mostly Democrat) during his lifetime, expressed disgust at how often he was the target of solicitous politicians:
The solicitations were "never ending," Madoff recalled. "These politicians take money from anybody — Democrats, Republicans." (Madoff said he registered as a Democrat long ago but now considers himself an independent.)
Madoff said [NY Sen. Charles] Schumer, whom he described as a "personable guy," would ask him for money a couple of times a year. "They would come up [to Madoff's office] just to say hello and collect the money," he said.
Schumer ran away from a POLITICO reporter when asked for comment.
And after five years in prison, Madoff has a LOT of opinions, if you'd care to hear them, like his favorite senator (Rob Wyden, D-OR), his thoughts on Hillary Clinton ("I certainly wasn't impressed with her as secretary of state"), and, oh yes, his accusations that Obama is a "socialist."
That is, if you care about the thoughts of Bernie Madoff.
[POLITICO]
[Image via the US Department of Justice]
— —
>> Follow Tina Nguyen (@Tina_Nguyen) on Twitter
Have a tip we should know? tips@mediaite.com