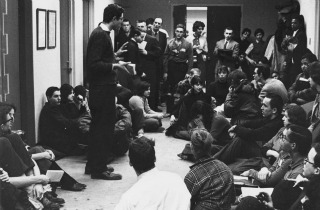 Another presidential candidate might soon come under increased media scrutiny for potentially giving incorrect information about his past. Former classmates of Sen. Bernie Sanders (I-VT) are now speaking out about an iconic civil rights-era photo that shows a man talking to his peers at a sit-in protest.
Sanders and his campaign have contended that the man standing up with a book in his right hand is the Democratic presidential candidate, and the University of Chicago archives still label it as such. But four of his former classmates told TIME Magazine that Sanders does not actually appear in the photo.
Additionally, TIME reported, an archivist at the university came to the same conclusion earlier this year, but has thus far been unable to identify the man. For that reason, Sanders is still listed in the description. The classmates with whom TIME spoke believe the man addressing protesters in the photo is Bruce Rappaport, who passed away in 2006.
"I can certainly recognize it as Bruce Rappaport, partly because of the curvature of his spine, and I see that tall thin look from the side," a former University of Chicago student told TIME. "When I saw it, I said, 'That's Bruce Rappaport.'"
Another former classmate who was Rappaport's roommate and the best man at his wedding corroborated that account.
A Sanders spokesman told TIME  that the Vermont senator is positive that he is the man pictured in the photo, and that he knew Rappaport. But an adviser to Sanders later said the campaign would look into the authenticity of the photo, which has been used on the campaign's website and videos in an effort to increase Sanders' credibility when it comes to civil rights issues.
As TIME notes, though, Sanders was still heavily involved in the civil rights movement during his younger years, and the former classmates praised him for his leadership on campus.
Watch the video above, via the Bernie Sanders campaign. The photo in question appears at around the 1:23 mark.
[Image via University of Chicago Photographic Archive]
— —
>>Follow Andrew Desiderio (@desiderioDC) on Twitter
Have a tip we should know? tips@mediaite.com