Bernie Sanders Sidesteps Questions from House Dems About Endorsing Clinton, House Dems Start Booing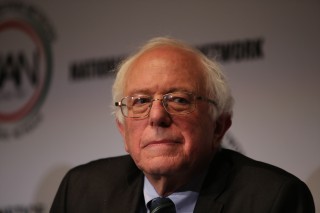 When Bernie Sanders met with House Democrats on Wednesday, he probably didn't get the reaction that he was hoping for. He met with these Democrats in a closed-door meeting after he was invited as a courtesy for all remaining presidential candidates. He deflected questions about endorsing Hillary Clinton and at one point during the meeting, some Democrats started to boo him. When Clinton came to meet with House Democrats, she was welcomed with open arms, applauded, and praised for her commitment to retaking Congress from the Republicans.
Bernie has not stopped seeking the Democratic nomination after being mathematically eliminated in early June. However, many Democrats have avoided criticizing Sanders for staying in the race, because they want to keep the legions of young people that he helped to mobilize during the nominating process. One Democrat even called Sanders' appearance before the House Caucus, a "total display of self-obsession," according to CNN.
One source said to Politico that Sanders was more interested in continuing his own message than actually winning the election:
"To say, as he did, that the goal is not to win elections but for people to embrace his ideas is disconnected from what we are trying to do here. He had a chance to talk about getting things done and instead talked about prolonging his process."
Sanders reportedly said that the goal of the Democratic party should not solely be about defeating the Republicans, a statement which did not sit well with a room full of elected officials. Continuing on with the meeting, Sanders continued to sidestep questions about when he was going to endorse Clinton, prompting Democrats to reportedly chant "timeline, timeline", and boo him.
Sanders gave a very standard answer when he was asked about his message to the House Caucus.
"We've got to get a large voter turnout. If we get a large voter turnout, Democrats will regain control of the Senate and I believe they're going to take the House back," Sanders said.
While some Democrats claimed that the meeting got a bit rowdy, House Democratic Caucus Chairman Xavier Becerra called it "animated" but not out of hand. However, he did say that the House Caucus saw the need to unify.
One anonymous Democrat said, "It was frustrating because he's squandering the movement he built with a self-obsession that was totally on display."
—
image via Shutterstock
Have a tip we should know? tips@mediaite.com