Best Presidential Ad Ever: Candidate Announces Campaign On The Simplest Of All Platforms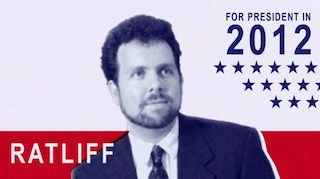 Meet Connor Ratliff. He's a 35 year old man from New York and last night, on live TV, he announced his candidacy for presidency of the United States of America. Unless you watch Manhattan public access, you may have missed it. Fortunately, we have his campaign ad below and it may just be the greatest presidential campaign ad since Lyndon Johnson blew up a nuclear bomb in a little girl's eye.
Before I continue, I'll let the man speak for himself:
And now the background. Ratliff is a New York comedian who performs at the Upright Citizens Brigade Theatre and is half of the filmmaking group The Lone Cornmeal Machine who contribute weekly videos to cult public access show The Chris Gethard Show (it seems odd to call something "cult" when it's only existed for seven weeks, but this show earns it). Last night, Ratliff showed the above video and announced he was running for president. After Gethard pointed out there was very little about his actual policies in the video, Ratliff elaborated:
"The United States Constitution says very little about what it takes to be president. All it says is that you have to be born here, you have to have lived here for 14 years, and the one number they threw out there is 35; you have to be at least 35 years old. And, in the entire history of our country, know how young the youngest president has been? 42! That's a disgrace. That's a disgrace. Our founding fathers put one number in the Constitution, 35. That's how old I am! Don't you want to do what the founding fathers wanted?"
Now there's some traditional values if I ever heard them.
Ratliff's campaign has created an official Twitter account which is promising cabinet positions to anyone who follows it.

Hey, that's only half as tacky as what Newt Gingrich is accused of.
Have a tip we should know? tips@mediaite.com