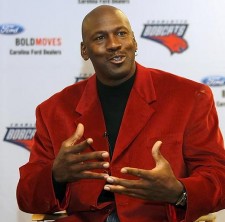 Michael Jordan is back in the news, as new details emerge regarding his fire-sale purchase of the Charlotte Bobcats and the financial troubles faced by the team's former owner, Robert Johnson. This comes a day after a Vanity Fair piece shed light on his alleged bad influence on Tiger Woods.
In a piece published today on the Daily Beast, Peter Lauria cites four sources close to Robert Johnson who say his sale of the Bobcats was motivated by a "need for liquidity to fund his other investment obligations."
Johnson, the founder of BET and the nation's first black billionaire, sold the Bobcats to Jordan for $275 million (he initially wanted upwards of $325 million), only $25 million of which was cash. The rest includes "assumption of debt and other liabilities taken on by Jordan."
From the Daily Beast:
"If he didn't get out now," says a former colleague of Johnson's who asked to remain anonymous because of their prior relationship, "he'd be [out of cash] soon."

"Bob is in a lot of businesses that require a lot of upfront capital expenditures, like hotels and gaming," adds a financial world source close to Johnson, "so he needs to husband cash flow for the assets that are growing rather than the ones that are not."
It comes at an interesting time for MJ, who was pretty much blamed for Tiger Woods' infidelity yesterday. Jordan was able to (mostly) keep his personal life out of the spotlight during his playing days, but that was before the 24/7 news cycle.
Like Woods, he's an internationally dominant brand, and also like Woods, he has his demons. The question is, now that he's an NBA owner, and thus, back in the national sports conversation, will said demons be scrutinized? Or will the public perception of Michael Jordan, the best athlete of our time and telegenic pitchman, remain unscathed?
Have a tip we should know? tips@mediaite.com