Beto Does Another Weird Personal Hygiene Video and Twitter is (Mostly) There for the Roast: 'Why tho?'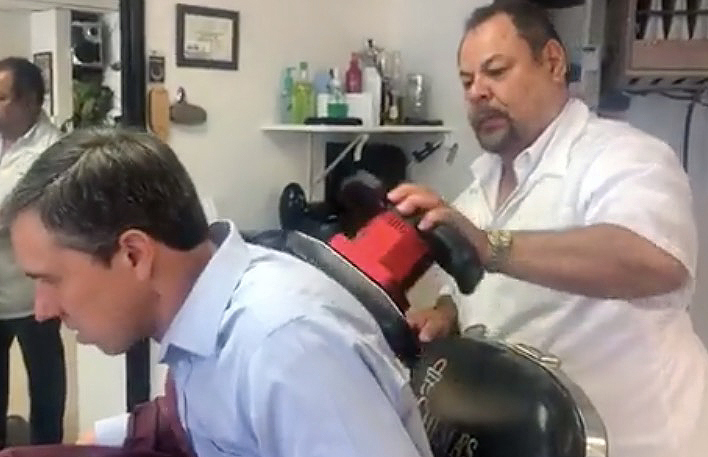 Beto O'Rourke, left, pictured doing something with some kind of big thingy for some reason.
Democratic 2020 candidate Beto O'Rourke caused more than a few spit (and rinse) takes when he live-streamed his own dental cleaning on Instagram. And it wasn't just Twitter whose flabber was gasted, even The Daily Show got in on the burns.
But if you were thinking that the lesson was learned, start thinking something different, because the privileged-but-sorry-about-it Dem is back at it. This time, he streamed himself getting the hair on his ears trimmed, along with a regular haircut and … whatever it is going on in the pic above.
Here is one of the tweets that started what is becoming a tradition, the Beto O'Roast.
Beto O'Rourke is livestreaming his haircut. At one point, he notes that his earhair is getting trimmed. Something he says needs to be done as you get older. pic.twitter.com/um040cwpTU

— Matt Viser (@mviser) May 15, 2019
Yeah. That's what he really did. Theoretically, it was about the conversation he was having with the barber, but there was no way ear hair wasn't going to take center stage. Twitter was there for the roast.
So. Much.
Beto livestream tour update

✔️Dentist
✔️Barber
Ear wax removal
Pedicure
Anal bleachinghttps://t.co/VRx3CJcCoh

— David Burge (@iowahawkblog) May 15, 2019
The internet was a mistake https://t.co/DIRyyuECKX

— Siraj Hashmi (@SirajAHashmi) May 15, 2019
Please God tell me this is real. https://t.co/T1FwF0Hw6W

— Brandon Morse (@TheBrandonMorse) May 15, 2019
Worst reality show ever. https://t.co/vdH6boMNbF

— Run, Lift, Repeat (@desertgardens) May 15, 2019
The biggest question people had, and certainly a very, very valid one, was "why?"
— Josh Dawsey (@jdawsey1) May 15, 2019
— Ana Navarro-Cárdenas (@ananavarro) May 15, 2019
Why tho https://t.co/NxRwNDtLJv

— Ryan Brooks (@ByRyanBrooks) May 15, 2019
— Marcus DiPaola (@marcusdipaola) May 15, 2019
— Kyle Feldscher (@Kyle_Feldscher) May 15, 2019
Why do politicians show themselves eating and grooming while talking policy?

It's gross. https://t.co/4T2sZFSyza

— Dr. Kortney Ziegler ✊? (@fakerapper) May 15, 2019
https://t.co/tkbjxFLNwH pic.twitter.com/yYYd5zWRiM

— Benjamin Raven (@BenjaminSRaven) May 15, 2019
Again, the answer, technically, is "for the conversation." But, still…
Yes he's interviewing his barber about important issues but he can do that without getting his haircut and ear hair trimmed? https://t.co/OpIleFhA3y

— Yashar Ali ? (@yashar) May 15, 2019
There were so many more.
Is there a name for what is wrong here? https://t.co/YBKT6cn0tb

— Kim Masters (@kimmasters) May 15, 2019
This was the moment Beto became President. https://t.co/gb2rnW1OkJ

— Alexander Nazaryan (@alexnazaryan) May 15, 2019
https://t.co/5JBjJ9Y60G pic.twitter.com/Qm214xu9gm

— Clara Jeffery (@ClaraJeffery) May 15, 2019
This may not be the content we wanted, but it's the content we probably deserve https://t.co/f6T1UaYI99

— Evan O'Connell (@evanoconnell) May 15, 2019
Not the reboot we saw coming…. https://t.co/RRqgHjdQGd

— James Oliphant (@jamesoliphant) May 15, 2019
More importantly, how does he eat his peanut butter — and what kind? cc @ericswalwell https://t.co/jXtSZ0N4Ad

— Betsy Rothstein (@betsyscribeindc) May 15, 2019
I keep telling you, the live stream tramp stamp tattoo is coming any day now. https://t.co/920Jw9fidz

— Jazz Shaw (@JazzShaw) May 15, 2019
Politicians who live stream getting their hair cut lose a bit of their right to complain when the press cover their every move. https://t.co/EngZdQ1IJT

— Andrew Downie (@adowniebrazil) May 15, 2019
He is weird. https://t.co/EJKK09BLju

— Sophia A. Nelson (@IAmSophiaNelson) May 15, 2019
Did he pass that NYT millennial quiz? The TMI livestreaming says yes, but the ear hair says no. https://t.co/yEnxzOICqF

— Annie Karni (@anniekarni) May 15, 2019

(By the way, this is that quiz.)
Not everyone was down for roasting, though. Sopan Deb of the New York Times brought up, as Yashar Ali mentioned (see above), the actual content of the conversation.
I see Politics Media Twitter is here to pile and snark on Beto for "live-streaming his haircut," and not mentioning that he's interviewing the barber about his experience as an immigrant or as a business owner. Great use of the medium, all!

— Sopan Deb (@SopanDeb) May 15, 2019
Alex Griswold of the Free Beacon responded.
what if it's maybe his fault that the serious nature of livestream is getting lost https://t.co/DvGqOvSdbn

— Alex Griswold (@HashtagGriswold) May 15, 2019
I have to say, if you're doing the ear hair video, you have to expect your Very Serious Conversation might take a back seat.
In any case, it makes a good "caption this" Twitter game for a Wednesday afternoon.
"Now see, the magnet is pulling out all the privilege." #CaptionThis pic.twitter.com/DTSLjYwjiu

— Caleb Howe (@CalebHowe) May 15, 2019
Arguably, Alexandria Ocasio-Cortez drinking and cooking and telling people to stop propagating the human race is a better use of the medium, but I guess we'll see in the long run.
Have a tip we should know? tips@mediaite.com