'Beyond Comprehension': Son Of Alleged Captor Wrote An Article About One Of The Missing Ohio Women In '04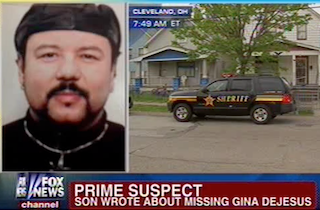 A bizarre twist to an already incredible story. Ariel Castro, 52, was arrested — along with his two brothers — after three women who were missing for about a decade were found alive in Ohio. His son, Ariel "Anthony" Castro, 31, apparently wrote an article about the missing women in 2004.
In the article, published in The Plain Press and headlined "Gina DeJesus' disappearance has changed her neighborhood," Anthony Castro wrote about Gina DeJesus' and Amanda Berry's disappearance, interviewing relatives as well as officials.
He wrote, in part:
Since April 2, 2004 , the day 14-year-old Gina DeJesus was last seen on her way home from Wilbur Wright Middle School , neighborhood residents have been taken by an overwhelming need for caution. Parents are more strictly enforcing curfews, encouraging their children to walk in groups, or driving them to and from school when they had previously walked alone.

"You can tell the difference," DeJesus' mother, Nancy Ruiz said. "People are watching out for each other's kids. It's a shame that a tragedy had to happen for me to really know my neighbors. Bless their hearts, they've been great."
[…]
One thing is for certain, however. Almost everyone feels a connection with the family, and Gina's disappearance has the whole area talking.
Anthony Castro was a journalism student at Bowling Green State University at the time. Speaking to WKYC's Sara Shookman, he said, "This is beyond comprehension…I'm truly stunned right now."
The Plain Press' managing editor Chuck Hoven phoned in to Fox & Friends on Tuesday, confirming that Castro wrote the story for a class assignment. "He did a nice job on the article," Hoven noted. "It was a big story at the time."
During the interview, host Gretchen Carlson asked, "Doesn't a son sometimes visit his father at the home? Especially when he's in college?" Hoven said he was unaware of the relationship between the two and didn't have enough background to comment on that.
Take a look at the Fox interview below:

(h/t WKYC)
Have a tip we should know? tips@mediaite.com