Beyond Guns And Race: How Rick Scott's Bad Policies Helped Give Rise To George Zimmerman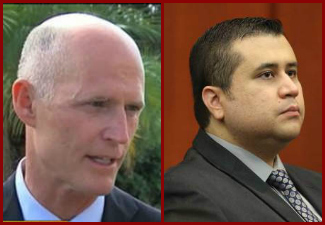 The aftermath of the George Zimmerman trial has been predictably polarizing, with everyone from civil rights activists to cable news pundits handing down their own verdict on the jury's verdict, and racial tension and profiling in America. The discussion about race has been appropriate, with Mediaites own Noath Rothman citing improving race relations in America.
The other conversation about Florida's controversial "Stand Your Ground" laws, which seem to allow citizens like Zimmerman the opportunity to initiate confrontation first, shoot to kill second, and go home free last is equally essential, and based on Attorney General Eric Holder's speech at an NAACP conference Tuesday, that conversation is just beginning.
The final aspect of the post-trial reflection has been political, as unsurprisingly, anything President Obama injected into the case, whether sympathetic to Trayvon Martin, neutral (the path he chose), or supportive of the jury's verdict was going to cause conservatives to go ballistic with calls of politicizing a tragedy and then some.
But there is another aspect of this case that has been mentioned nowhere, one that didn't cause the ultimate altercation between Zimmerman and Martin, but most certainly might have contributed.
Republican governors like Florida's Rick Scott laying off masses of police and other safety workers in the name of balancing budgets and letting the private sector do its thing. Scott, a former venture capitalist and for-profit health care executive, was elected as Governor during the 2010 Republican Tea Party wave, and wasted little time before gutting Florida's public sector. In fact, just nine months into his term as Governor, Scott's policies had laid off 15,000 public sector workers, a victory he bragged about during the below 2011 CPAC conference.
As the years have gone on, one of the professions most vulnerable to Scott's adoration for the free market has been Florida police, as large cities like Jacksonville laid off 50 police officers while leaving empty 23 vacant positions. Startlingly enough, as that budget vote went down, 15 people were shot in Jacksonville in only 48 hours. Bigger picture, this region of the sunshine state that Scott's cuts impacted had the highest murder rate in all of Florida dating back to 2011. The cuts weren't limited to Jacksonville, as Miami-Dade laid off 118 officers in 2012 with countless other counties cutting back.
And then there's the Sanford Police Department, which responded to the tragedy that that has swept up our nation. After speaking with Sanford Police Department Captain James McCullough, it seems actual layoffs haven't been prominent in Sanford:
"As far as I can remember, we haven't had any layoffs in the Sanford Police Department over the last few years," McCullough said, adding, "There have been periods of hiring freezes."
So, if the there haven't been police layoffs and only limited hiring freezes, what's the problem?
Sanford's soaring crime rate.
According to NeighborhoodScout, Sanford's crime rate rivals that of the biggest cities in America:
With a crime rate of 66 per one thousand residents, Sanford has one of the highest crime rates in America compared to all communities of all sizes – from the smallest towns to the very largest cities. One's chance of becoming a victim of either violent or property crime here is one in 15. Within Florida, more than 92% of the communities have a lower crime rate than Sanford.
NeighborhoodScout also points out the importance of comparing Sanford's crime rate with similarly sized communities.
Separately, it's always interesting and important to compare a city's crime rate with those of similarly sized communities – a fair comparison as larger cities tend to have more crime. NeighborhoodScout has done just that. With a population of 53,570, Sanford has a combined rate of violent and property crime that is very high compared to other places of similar population size. Regardless of whether Sanford does well or poorly compared to all other cities and towns in the US of all sizes, compared to places with a similar population, it fares badly. Few other communities of this size have a crime rate as high as Sanford.
I can already hear the conservative indignation, vehemently denying that Sanford's crimes compare to their favorite city to cite—Obama's Chicago.
So with a crime rate in Sanford equal to if not higher than major cities, are a mere lack of layoffs and small hiring freezes enough for police to adequately patrol neighborhoods like the gated community the Martin/Zimmerman altercation took place, have quick enough 911 response time (approximately eight minutes the night of this incident), and conduct thorough and fair investigations after a violent crime has been committed.
On February 26th, 2012 and in the immediate weeks following, Sanford Police hit one for three on the above.
More importantly, what does this lack of a robust police force, both in areas like Sanford that seem to lack an effective ratio of police to crime rate percentage and in other cities that have laid off dozens, suggest to law enthusiasts like George Zimmerman, who on the surface just want to do their part to help their community, but in reality was jonesing to become a professional cop?
In the most positive scenario, they would go the extra mile, and volunteer for neighborhood watch, while doing nothing more than calling the police an overzealous amount of times.
In the more dire of circumstances, they would take matters into his own hands, ignoring 911 instructions to not proceed toward a "suspect," and after that, armed with a gun, approach a teenager armed with only a Snapple and candy, and "stand his ground" against supposedly being beaten within inches of his life.
In fairness, a Governor like Rick Scott can't control what's in the heart or mind of George Zimmerman, or neighborhood watch types anywhere for that matter. He also is not the only Governor or Mayor in the country instituting draconian budget cuts that hurt the middle class. But he can control his budget, often argued by liberals as just as much a moral document than a financial one.
To be clear, it would be irresponsible to suggest Scott had a direct involvement in this tragedy—he did not. But it is important to cite the many aspects that contribute to senseless tragedies like this, ranging from Sanford to Chicago to Los Angeles.
Exploring racial biases and harmful self defense laws are vital to the discussion—but so is politics. Not the politics of whether President Obama citing a murder victim's skin color impacts the zeitgeist of America, but instead the politics of policy choices and their consequences.
Choices that Governors like Rick Scott make to balance the budget, instituting tax breaks for their free market warriors like corporations and wealthy individuals, instead of everyday warriors, like police officers, firefighters, and teachers.
Maybe it's time to have that discussion.
—-
Follow Jordan Chariton (@JordanChariton) on Twitter
Have a tip we should know? tips@mediaite.com