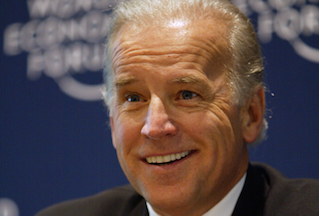 While nearly every pundit out there is predicting that the Republican Party will take over the Senate when all the midterm election votes are cast today. But Vice President Joe Biden is going hard in the other direction, boldly calling the election for the Democrats and even putting a number on it: 52 seats.
During a radio interview with Connecticut's WPLR Tuesday morning, Biden said he believes Alaska, North Carolina and New Hampshire will all fall in the Democrat's column. In addition, he said, "I think we have a chance of picking up an independent who will be with us in the state of Kansas," referring to Greg Orman, who has finally started to poll ahead of Sen. Pat Roberts (R-KS). "I think we're going to win Georgia. I think Nunn is going to win in Georgia. I think there will be a runoff probably with Mary Landrieu, although she could win it today in Louisiana."
"I think we're going to end up with 52 about, in that range, Democratic votes," the vice president concluded.
Of the races Biden mentioned, only North Carolina and New Hampshire are projected to go for the Democrat, according to the models on FiveThirtyEight and The New York Times. Both of those sites have Kansas at a near-dead heat.
Of course, if the Senate somehow ends up tied, with 50 Democrats and 50 Republicans, tie-breaker Joe Biden will suddenly become the most powerful man in Washington. So, you have to think he's secretly hoping for that.
Listen to audio below, via WPLR:
[Photo via Wikimedia Commons]
— —
>> Follow Matt Wilstein (@TheMattWilstein) on Twitter
Have a tip we should know? tips@mediaite.com