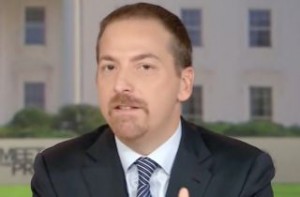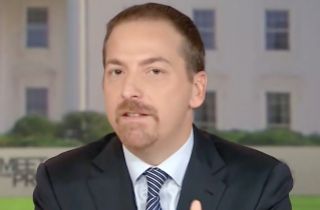 Chuck Todd is having himself a good week.
His back-to-back interviews on Sunday's Meet the Press with Hillary Clinton and Carly Fiorina turned out to be the two conversations that had the legs to go into news cycles well into the week. Todd also launched his new offering–MTP Daily–a program we reported was coming here first on Mediaite back in July. And after sampling the first three programs, here's your review in one word:
Solid.
Ok, perhaps we'll need to expand on that a bit. For starters, it's hard not to dig Pedro Cerrano being the new voice of the Meet the Press opening (actor Dennis Haysbert, currently of Allstate ads fame). The bulk of the program itself is mostly the same Meet the Press seen on Sunday mornings with sprinkles of Todd's old MSNBC program, The Daily Rundown sprinkled in. And given the competition at 5:00 PM (Fox's The Five and CNN's The Situation Room), there is a niche to be carved out here: If you love politics, polls and the daily rollercoaster and drama that is the reality show otherwise known as the 2016 race for the White House, you definitely have a home here.
That's not to say The Five or Situation Room don't go down this road often as well, but Todd's show goes at it for the full hour with more of a deep-dive, pseudo-wonky approach. Short version: If you like Morning Joe, you'll really like MTP Daily. The trick here now is to get the best guests and panelists from within, and that should include Rachel Maddow, Chris Matthews, Joe Scarborough and Lawrence O'Donnell, who knows a thing or two about being a panel pundit going back to his McLaughlin Group days. Quality guests (in addition to heavyweight candidates) such as lively pragmatists Amy Holmes and Katty Kay would really help make this thing a must-watch as the presidential campaigns become more compelling when more debates and primaries rule a huge chunk of regular cable news rundowns.
The show also gives the 43-year-old G.W. grad six days a week of national airtime doing nothing but politics. That's a lot of at-bats, and that's only a good thing. Think about it: Meet the Press' network competition on Sundays from a host/moderator perspective are George Stephanopoulos (ABC) and John Dickerson (CBS). Outside of Sunday morning, we don't really see Dickerson, and Stephanopoulos is busy with the fluffy Good Morning America, which seems to do less and less politics these days (which is fine given it's #1 in the morning news race).
Either way, this gives Todd a distinct advantage and allows him to expand his brand as the face of politics not only on MSNBC/NBC, but across the entire television landscape. And most importantly, he's outworking everyone, doing interviews with outlets everywhere and anywhere outside of 30 Rock (including sports radio). The effort appears to be paying off, as the aforementioned Hillary and Carly interviews made Meet Sunday's most-watched political show with over 3.2 million total viewers, beating Face the Nation by 99,000 viewers and This Week by 500,000 (ABC still won the demo by 35K, but given the perpetual third-place the show was once in, NBC will surely take it).
Chuck Todd is having a good week right now.
Big interviews, creating news cycles and the launch of a second national television show in the process.
In a business as tough as this one, that's not a bad week at all…
— —
Follow Joe Concha on Twitter @JoeConchaTV
Have a tip we should know? tips@mediaite.com