Deputy Press Secretary Bill Burton Leaving White House, Rules Out Run for Congress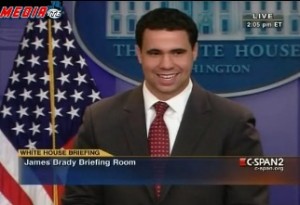 On the heels of newly-minted White House Press Secretary Jay Carney's first daily briefing, Deputy Press Secretary Bill Burton (a heavy favorite for the job that went to Carney) announced Wednesday that he is leaving the White House. Burton has been floated as a candidate to fill the House seat vacated by "Shirtless" Chris Lee (R-NY), but, in an email to Mediaite, Burton has ruled out such a run.
The timing of the announcement of Burton's departure, just hours after Carney's first briefing, has led many to speculate that Burton harbors bitterness at having been passed over for the press secretary post. Burton was heavily favored to replace Robert Gibbs, and with good reason, but the selection of Carney was more about taking the job in a different direction (and aided by heavy lobbying from the Vice President), rather than a statement about Burton's qualifications, as he surely understands. Be that as it may, the timing of Burton's announcement certainly does register the contrasts inherent in that choice.
CNN's Ed Henry picked up on something else in Burton's announcement:
Burton has not publicly expressed any bitterness about the process, though he did allude to his long service for Obama in his farewell e-mail, which also included a joking reference to "hangers-on" who signed on much later.

"Four years ago this week, I stood with many of you in Springfield as then-Senator Barack Obama announced an improbable campaign for President on an unbelievably cold day," Burton wrote. "And then I stood with a lot more of you on an unseasonably warm night in Chicago as the next First Family strode onto stage in Grant Park. There was another cold day in Washington – when all the rest of you hangers-on showed up – and that Senator became President. And all those days since, we worked together to make the change he promised a reality in the lives of countless Americans."
It's a sly, low-key reference that likely reflects the temperature of Burton's disappointment. I know he wanted the job, and justly felt he deserved it, but as Henry notes, never indicated that the choice of Carney amounted to a snub.
The difficulty of that decision, if anything, illustrated the degree to which Burton has outgrown the Deputy Press Secretary post, and while the Obama press shop has a deep bench, Burton's departure is a significant loss for Carney.
Burton's next step will be launching a consulting firm:
Burton in an email to friends and colleagues announced that he would be forming a Democratic consulting firm with Sean Sweeney, the former chief of staff to former chief of staff Rahm Emanuel. The two worked together at the Democratic Congressional Campaign Committee in 2006, when Emanuel was the chair, Sweeney was the political director, and Burton was communications director.

The son of Buffalo said the firm will focus on political and strategic consulting," Burton wrote. "We will have a more specific announcement in coming weeks once we figure out things like name, location and where one buys those comfy ergonomic office chairs."
Recently, Burton has also been mentioned as a candidate for Rep. Chris Lee's (R-NY) now-vacant House seat, with Democratic party insiders reportedly courting Burton to run in the forthcoming special election. In an email to Mediaite, Burton ruled out such a run, saying "I'm not running for Congress – I think this business is going to keep my hands full."
While the Buffalo native would have made an excellent candidate, the NY 26th would have been a tough row to hoe, with a Republican registration advantage of roughly 30,000.
Burton will also have his hands full in May, when he and wife Laura expect their first child.
Have a tip we should know? tips@mediaite.com