Dept. Of Unfortunate Headlines: Washington Post Asks "Is Scott Brown Beatable?"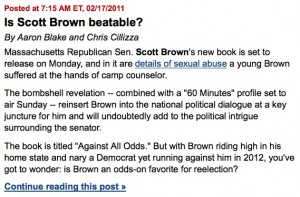 Yesterday news broke that Massachusetts Senator Scott Brown had revealed to 60 Minutes' Lesley Stahl that he had been sexually abused as a young boy at summer camp. While the segment airs in full this coming Sunday, Brown was lauded by many inside the beltway for bravely sharing this dark secret. This morning's version of Washington Post's political blog The Fix led with that news, but seemed to want to score some juvenile humor points with what some will surely see as a remarkably insensitive headline.
The post, co-authored by Aaron Blake and Chris Cillizza, leads with yesterday's report of Brown's sexual abuse:
Massachusetts Republican Sen. Scott Brown's new book is set to release on Monday, and in it are details of sexual abuse a young Brown suffered at the hands of camp counselor.

The bombshell revelation — combined with a "60 Minutes" profile set to air Sunday — reinsert Brown into the national political dialogue at a key juncture for him and will undoubtedly add to the political intrigue surrounding the senator.

The book is titled "Against All Odds." But with Brown riding high in his home state and nary a Democrat yet running against him in 2012, you've got to wonder: is Brown an odds-on favorite for reelection?
See what they did there? They pegged a story on Brown's reelection chances to his soon to be released book that just so happens to discuss how he was was abused as a kid. Its certainly possible that this was an inadvertent choice of words, but it seems more likely to be a tone deaf choice of words at best, particularly in light of Nir Rosen's recent fall from grace for his inappropriate "jokes" about the sexual abuse of Lara Logan at the hands of Egyptian demonstrators.
(H/T Andrew Beaujon)
Have a tip we should know? tips@mediaite.com