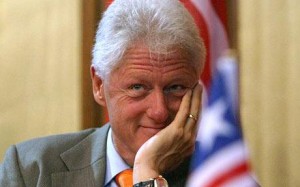 Former President Bill Clinton is Back To Work with a new book due out in November, via Knopf. The 200-page book examines the current economic environment and outlines a path to recovery — one that Clinton hopes will reinforce President Obama's jobs plan and help get the country he loves back on track.
"I wrote this book because I love my country and I'm concerned about our future," he said in a statement. "As I often said when I first ran for president in 1992, America at its core is an idea — the idea that no matter who you are or where you're from, if you work hard and play by the rules, you'll have the freedom and opportunity to pursue your own dreams and leave your kids a country where they can chase theirs."
According to the official release, the 200-page book will provide "specific recommendations on how we can put people back to work, increase bank lending nad corporate investment, double our exports, restore our manufacturing base, and create new businesses." The New York Times reports that Clinton wrote the book himself over the course of several months, and if past advances are any indicator, he's probably already been well paid for his efforts.
In an interview with the AP, Clinton he explained that he was inspired by the current economic climate, one which he feels in similar to 1994 when he, himself, was campaigning for president under the slogan "It's the economy, stupid!" "It was like the 21st-century version of the 1994 election in which there was this enormously effective campaign against government, as if the government were responsible for all this," he said. "I hope I can do things in this book that a president doesn't have time to do and shouldn't be doing."
Have a tip we should know? tips@mediaite.com