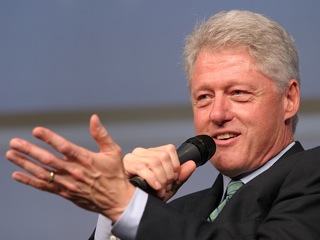 Former President Bill Clinton had some kind words for Mitt Romney earlier this week, when he called the former Massachusetts Governor's business record "sterling." In a rally in New Jersey yesterday, however, Clinton appeared shocked that anyone would think his faint praise meant anything other than ceding what was true to the other side, rather than any ringing endorsement. Clinton blamed the "tea party" for a climate where civil discourse was unacceptable.

RELATED: Bill Clinton Praises Romney's 'Sterling' Business Career: We Shouldn't Say It's 'Bad Work'
Clinton, speaking at a rally to support Rep. Bill Pascrell in New Jersey, explained that he was not endorsing Romney at all, but merely not "attack[ing] him personally and bash[ing] him":
"I said, you know, Governor Romney had a good career in business and he was a governor, so he crosses the qualification threshold for him being president," Clinton said. "But he shouldn't be elected, because he is wrong on the economy and all these other issues.

"So today, because I didn't attack him personally and bash him, I wake up to read all these stories taking it out of context as if I had virtually endorsed him, which means the tea party has already won their first great victory: 'We are supposed to hate each to disagree.' That is wrong."
Clinton's interview with Harvey Weinstein made headlines as he was one in a series of Democrats to appear to disagree with the Obama camp's decision to go after Romney for his record in private equity, most notably Newark Mayor Cory Booker.
—–
» Follow Frances Martel on Twitter
Have a tip we should know? [email protected]