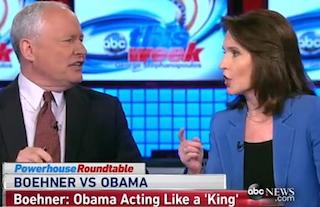 When The Weekly Standard's Bill Kristol and The Nation's Katrina van den Heuvel both appeared as panelists on this past Sunday's The Week, they nearly came to blows over the current crisis in Iraq and who deserves most of the blame. Today, Kristol reacted to the clash on Steve Malzberg's Newsmax show, accusing van den Heuvel of being "utterly cavalier" on the issue.
When Malzberg started asking Kristol for a reaction to spat on ABC, he initially demurred, saying she has her own views about Iraq and "that fine." But as Malzberg continued to push, Kristol shared his true feelings about the liberal editor and pundit.
While some liberals are able to make a "sober judgement" about U.S. interests in Iraq, Kristol said van den Heuvel was being "utterly cavalier" about the human costs on the Iraqi side. "Didn't liberals used to care about their fellow human beings?" he asked.
"Shouldn't liberals at least say 'you know what, we wish we could do something, but I don't think we can?'" he continued. "What's striking to me about her — and I think this is emblematic of a certain stripe of liberalism — they don't even pretend to care anymore."
"It's like the crassest kind of selfish isolationism that people used to denounce the American right for," he concluded.
Watch video below, via Newsmax:
And you can watch the full exchange from This Week below, via ABC:
[Photo via screengrab]
— —
>> Follow Matt Wilstein (@TheMattWilstein) on Twitter
Have a tip we should know? [email protected]