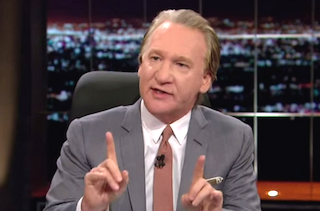 In a little over two weeks, Bill Maher will deliver the December commencement address at the University of California Berkeley whether the students there want him to or not.
Shortly after Maher got into a heated debate over Islam with Ben Affleck on Real Time, students at that school set up a petition asking the administration to disinvite him from speaking. But both Maher and the university held strong and kept him as the speaker despite the controversy, picking up endorsements from both ABC's The View and and Fox News' The Five along the way.
Now, with the speech just a few short weeks away, Maher discussed the entire situation in an interview with CNN commentator Sally Kohn for Vanity Fair.
Asked by Kohn what his message is to the Berkeley students who will no doubt show up to protest his speech, Maher replied:
You know, I'm a liberal. My message is: be a liberal. Find out what liberalism means and join up. Liberalism certainly should not mean squelching free speech. And by the way, that petition, it was online, so anybody could sign it. You didn't have to go to Berkeley to sign it, you could sign it more than one time… So it was kind of a bullshit thing to begin with. Uh, so I don't think there were that many people against it. Even people who don't agree with everything I say about Islam certainly were on the side of letting me speak. The comments I read were just almost embarrassed for the kids.

And I would just say to all liberals: we should own the First Amendment the way the right-wingers own the Second.
Read the full interview, including Maher's expanded thoughts on Islam, at vanityfair.com.
[Photo via HBO]
— —
>> Follow Matt Wilstein (@TheMattWilstein) on Twitter
Have a tip we should know? tips@mediaite.com